Sorry, this event's been and gone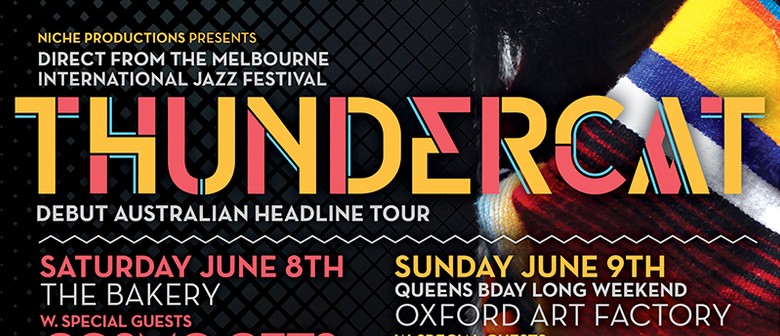 Thundercat with special guests Cosmo Gets & Ben Taaffe
As bassist for Erykah Badu and Suicidal Tendencies, Stephen 'Thundercat' Bruner is no stranger to Australian shores, however the master of the four-string, on the eve of the announce of his second album, is now coming to Australia for his first ever headline tour!
In 2011, Thundercat dazzled listeners worldwide with his debut for Brainfeeder 'The Golden Age of Apocalypse,' a shimmering culmination of influences as diverse as yacht rock and free Jazz produced by frequent collaborator Flying Lotus. It's Thundercat's playing style that anchors so much of cutting edge music these days, be it the frenetic Jazz-Metal styles or the low slung Funk that he seems to effortlessly switch between for artists like Badu, Lotus, Sa-Ra, J*Davey or Suicidal Tendencies. His singing also takes to the fore on catchy tracks like 'Walkin'' and the brand new lead single 'Heartbreaks + Setbacks' off the second album 'Apocalypse' due July 2013. Listen to 'Heartbreaks + Setbacks' here http://soundcloud.com/brainfeeder/thundercat-heartbreaks/s-4e5PT
Describing the album, Bruner says:
"I feel like the album's a story, more than anything. The music's almost like a photobook for me. It takes me back to certain things I'll never forget. I love working with Lotus because he was able to give it a different perspective and mold, to where people can actually see it for what it is."
With Australia in line to being the first to hear sounds from the LP, we are in for a real treat as Thundercat, drummer Thomas Prigden (The Mars Volta) and keyboardist Dennis Hamm take to the stages of Melbourne's prestigious International Jazz Festival and Sydney's Oxford Art Factory (in a repeat of Niche's long weekend satellite shows, last year sold out by Robert Glasper and Jose James). In both Sydney and Melbourne Thundercat will be joined by Australia's own wondercore virtuosos Hiatus Kaiyote, who have just returned from a successful sellout tour of the US.
An exceptional night of musicianship and spine-tingling electronics, don't miss Thundercat in his debut Australian headline performances.