Sorry, this event's been and gone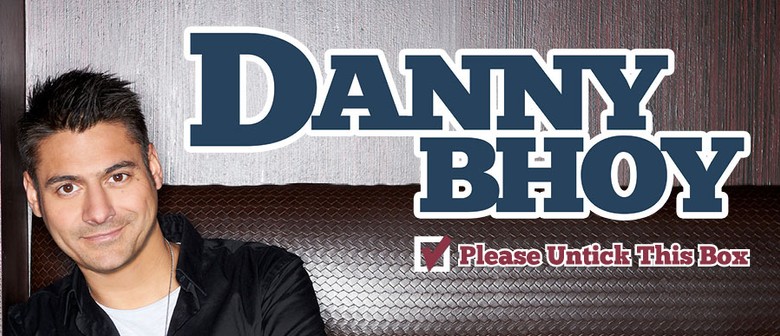 Website:
Related Artists:
Laugh, laugh and laugh as comedy heavyweight Danny Boy returns to Australia to spread nothing but fun and laughter with his Please Untick This Box Tour!
Bhoy began emerged in the comedy scene in 1998 and, a year later, he won the Daily Telegraph Open Mic Award in the UK. In 2001, he staged his first solo show at the Edinburgh Festival to critical acclaim. Since then he has been a regular at the Edinburgh Fringe, packing the biggest venues at the festival.
"Subtle, intelligent, perceptive, observant and very, very funny." - The Scotsman

"He creates a remarkable intimacy with his audience. A must-see." - The Age

In 2014, his show 12 Nights 12 Charities raised a whopping £75,000 for local Edinburgh charities. This was followed up with his biggest UK Tour to date throughout 2014/2015.

But, his success at home tells only a small part of the story. Since his first visit abroad to Australia in 2003, Danny has become one of the most globally successful and prolific comics in the world today. He has built up a humongous fanbase in Australia, New Zealand and Canada, where he regularly tours record-breaking shows. Danny's unique brand of story-telling and razor sharp wit has been described as "effortlessly funny", and "the stand up equivalent of Bill Bryson".

"His routines have the mark of those which are quoted from, for years to come." - The Herald, UK

Danny's first two DVD's Live at The Opera House, and Live at the Athenaeum released only in Australia and New Zealand, enjoyed huge success. And in early 2012, Danny recorded his first worldwide DVD in his home town of Edinburgh, Live At The Festival Theatre. In addition to regular appearances on Canada's Just For Laughs galas, Danny has also performed three times on Live At The Apollo, which he was invited to host last year. He has also featured on the The Late Show with David Letterman and has recorded a highly prestigious one-hour Comedy Central Special entitled Subject To Change.

In November 2014 he did his first U.S. Tour with his critically-acclaimed show Dear Epson, and in 2015 he hopes to continue building on his success both at home and abroad with his new show Please Untick This Box.
Presented by ABPresents.