Sorry, this event's been and gone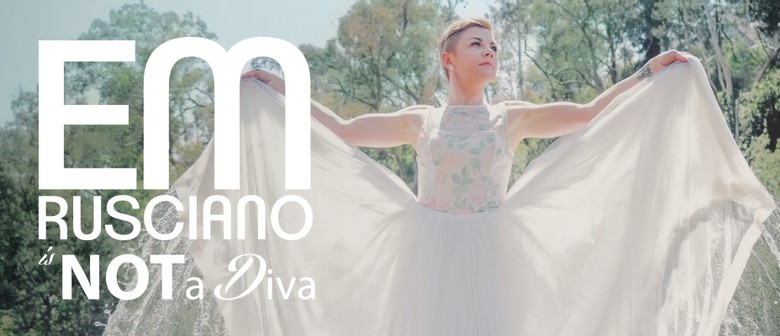 Em Rusciano is selling out theatres all nationwide, adding new shows in Canberra (Canberra Theatre, Friday 4 March) and Darwin (Darwin Convention Centre, Saturday 5 March) to meet demand.

As usual, Em will be joined on stage by her Super Mario lookalike father Vincie who will once again learn things about his daughter he probably didn't need to hear.

Em, bigger and brassier than ever in 2016, will showcase her musical wit as she sings with a full band for the very first time on the 'Em Rusciano Is NOT A Diva' which tours across capital cities and regional towns across the country from February through to May.

Growing up, Em Rusciano only had a simple dream of being the first person to win an Olympic Gold medal, an Oscar, a Tony and a Grammy.

Now Em is 36 and can't even crack an invitation to the Logies let alone a nomination. She has also had to accept that she may never be Taylor Swift or Beyonce and that the only time-appropriate Diva left is Susan Boyle.

This show is for you who dreamt big and sung into a hairbrush but now couldn't even consider wearing a G-string. Em is now ready to talk about Australian Idol. It is time to accept that Em Rusciano…is NOT a Diva.

'Solid, rhinestone-studded gold' - Herald Sun
'Hysterically funny' - Rip It Up

'All the wit, warmth and charisma in the world' - Herald Sun

'Spectacularly funny' - Perth Culture

'Manic hilarity and one huge and beautiful voice' - The Age

Em's run of shows in Adelaide and Brisbane have both completely sold out and Perth is only a handful of tickets from following suit. Tickets are selling like hotcakes, don't miss out on a night of side-splitting laughs. Pack your sequins for a huge night out!