Sorry, this event's been and gone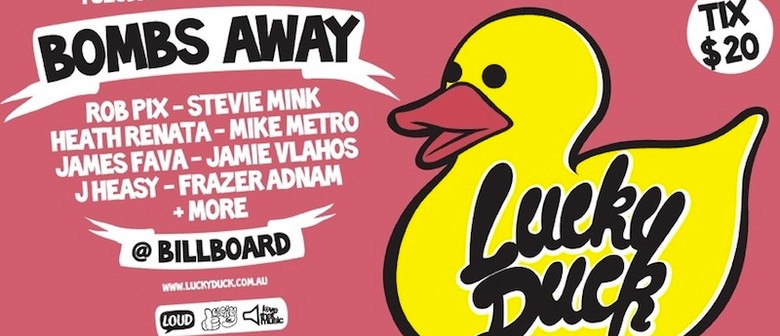 "Lucky Duck!"
It's one of those phrases that never quite leaves us. As a child you cringed when a parent or "older person" referred to it all too often. Growing up, it unwillingly entered your vocabulary and apart of your every day cycle. Don't deny it. What makes a duck lucky anyway? Who knows- Just embrace it.
This was the thought process behind Loud Promotions, Love That Music and Lucky Entertainment (The man behind Billboard, Luke Udorovic) and in turn, the birth of Lucky Duck.
The crew's have once again emerged from their creative cocoons with the results going down, Tuesday December 13th at Billboard "The Venue".
Behind the decks with their confronting, stripped back, raw and feathered tunes :
- BOMBS AWAY
- Heath Renata
- Rob Pix
- Stevie Mink
- Mike Metro
- James Fava
- Jamie Vlahos
- Frazer Adnam
- J Heasy
- T-White
- Zac Masters
- AdrianGia
- C-Barts
- Ryan Joy
- Anthony Oates
- Rich Morgan
- Sasha
- Heath Sperrin
+ More!
Tickets at $20 a pop from your nearest promoter-duckling or http://www.moshtix.com.au.
Promoter / Ticket Enquiries :
Luke@billboardthevenue.com.au / 0421305038
Daniel@loudpromotions.com.au / 0431465533
James@lovethatmusic.com.au / 0430545732
Jamie@billboardthevenue.com.au / 0422287839