Sorry, this event's been and gone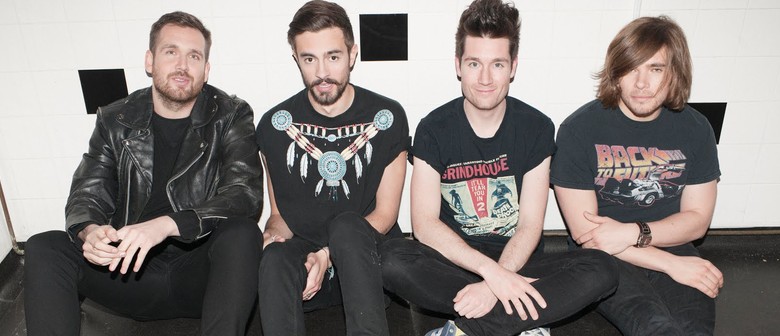 Where: Metro Theatre,

624 George Street, Sydney CBD, New South Wales
Website:
With their current double platinum smash single 'Pompeii' at No.5 on the National ARIA Singles Chart this week, Bastille has just released the follow up single 'Laura Palmer' (at Australian radio this week) and has already been added to UK's Radio 1 A-List. Both singles are lifted from the band's debut album 'Bad Blood' (available now through Virgin/EMI Music) which debuted at No.1 on the Official UK Albums Chart on release.
2013 has been an incredible year so far for Bastille.

To date, the band's debut album 'Bad Blood' has clocked up nearly a quarter of a million sales in the UK alone, becoming the biggest selling debut album of the year so far and still remains in the UK top 10. Single 'Pompeii' has become one of the stand out tracks of the year with over half a million sales to date and their recently announced UK tour sold out as quickly as it went on sale, all 44,000 tickets gone in a day. It's true to say that Bastille is the biggest new band in Britain.

How did it happen? Bastille began as an alternative identity for Dan Smith, a vehicle for his numerous ideas. A lot of talent and a few killer releases - the makeshift D.I.Y video Dan created for his Young & Lost Club debut single Flaws/Icarus, for example – a three-minute edit of classic movie Badlands, re-imagined without the murder, his Laura Palmer EP, a series of captivating singles released on Virgin Records; 'Overjoyed', 'Bad Blood' and the re-release of 'Flaws', the number 2 charting 'Pompeii' and 'Laura Palmer". There's also the 'mixtapes', 2012's Other People's Heartache and sequel Other People's Heartache Part 2, both of which have delivered tracks that have topped the Hype Machine chart.

Although Smith is the driving force behind Bastille with all of the songs being written and initially recorded by him in his bedroom, his music is ultimately collaborative. The rest of the band; Bassist Will Farquarson, keyboard player Kyle Simmons and drummer Chris 'Woody' Wood, appear on the album in varying capacities, and Bastille's music is always the product of Smith and the band's 'fifth member', producer Mark Crew. Smith and Crew's relationship goes back to the beginning of Bastille and though the music they record together sounds lush and expensive, the album was recorded in a tiny room on limited equipment – plus a day recording strings in the legendary Abbey Road. "We basically made the album in a studio the size of a cupboard, so it was one extreme to the other. Producing the record, I wanted to off-set epic sounding instrumentation with lyrics that combine intimate stories or conversation. The contrast was something that appealed to me." says Smith,

Joining Bastille as special guest will be Sydney five piece Tigertown. Fresh from supporting Bob Evans on his recent national tour as well headline shows of their own, the band has impressed previously with sparkling radio gems such as Go Now, Lions and Witches and the addictive track Morning Has Finally Come. New single What You Come Here For from their forthcoming EP was recorded with AMP award winning producer Liam Judson (Cloud Control, Belles Will Ring) and pushes Tigertown's signature sound of lush harmonies, dreamy instrumentation and hooky melodies into all new sonic territories. Tigertown's sophisticated dream-pop makes the perfect accompaniment to Bastille's performance.
Pre-sale tickets available from Tuesday 25 June 2pm until Wednesday June 26 and general public on sale from 9am local time, Thursday June 27.