This event's been cancelled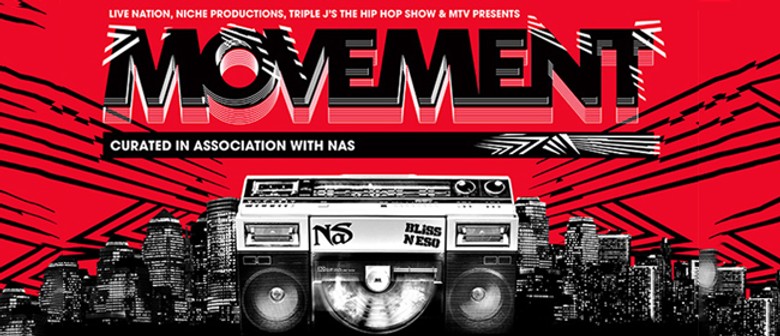 Where: Festival Hall,

300 Dudley Street, West Melbourne, Victoria
Website:
Related Artists:
Live Nation and Niche Productions are proud to present, in association with American hip hop legend Nas, the inaugural 2013 Australian Movement Festival. Filling the void of credible Hip-Hop events in Australia, the Movement Festival places Grammy award winning Hip Hop heavyweights, with mixtape kings and local heros in what's destined to takeover as the hip hop and urban event each and every year in Australia.
Setting a new standard, Movement looks to the future of hip hop and rap whilst still catering to a solid hip hop foundation, thanks to the festival's co-headliner and co-curator Nas. With more than 20 years in the business and often called the greatest rapper alive, Nas is an artist who needs little or no introduction. The gifted Queens, NY lyricist has come on board as a partner for the event, hand-picking a lineup of the best local and international artists, from Grammy nominees to up and coming mixtape kings and queens. In the lead up to this year's event Nas has also announced he will be recording a collaboration with ARIA Award winners and multi-platinum selling local artist Bliss N Eso (who will also be launching their new album in time for Movement 2013), a significant feat which demonstrates the depth of Nas' involvement in Movement and his commitment to the territory.
Nas' authority over the genre makes him the ideal candidate to command Movement's inaugural event, and his contribution will be ongoing as he will also be involved in an artistic and programming capacity for the 2014 and 2015 events.
The line-up includes:
Nas
Bliss N Eso
2 Chainz
Chiddy Bang
Joey Bada$$
Iggy Azalea
Spit Syndicate (Melb, Bris and Perth)
Thundamentals (Sydney only)
Diafrix
plus the best DJs and a triple j Unearthed winner from each city.