This event's been cancelled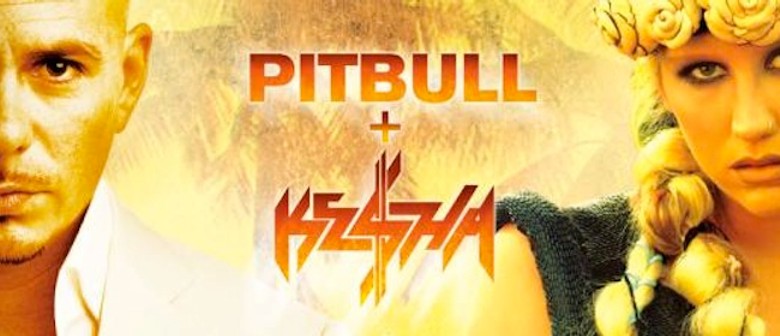 Restrictions:
All Ages Licensed
Related Artists:
The Pitbull and Kesha tour buzz started earlier this year when the international music star tweeted Kesha before they appeared at the Kids Choice Awards in the US with their North American tour announced the following day.
Pitbull's latest album, Global Warming, is aptly-titled, featuring five scorching singles: "Back In Time" (the theme to Men In Black 3; triple platinum in Australia), "Get It Started" (featuring Shakira), "Don't Stop The Party" (double platinum), "Feel This Moment" (featuring Christina Aguilera; double platinum), and the latest smash, "Outta Nowhere".

Pitbull's previous Top 10 hits in Australia include "Give Me Everything" (six times platinum), "I Know You Want Me", "Hey Baby (Drop It To The Floor)" and "Rain Over Me". He has also been the featured artist on smash hits for Jennifer Lopez ("On The Floor"), Usher ("DJ Got Us Fallin' In Love"), Enrique Iglesias ("I Like It"), and Qwote ("Throw Your Hands Up").

Kesha exploded with her debut single, "TiK ToK", which spent eight weeks at number one in Australia, going seven times platinum. It was the world's biggest-selling single in 2010 and the biggest-selling digital single in history by a female solo artist. Kesha also topped the Australian charts with "We R Who We R" (four times platinum), and hit the Top 5 with "Blah Blah Blah", "Your Love Is My Drug", "Take It Off" and "Die Young". And she was the featured artist on Flo Rida's "Right Round", which spent seven weeks on top of the Australian charts.

Kesha has released two albums, Animal and Warrior, plus the perfectly-titled remix album: I Am The Dance Commander and I Command You To Dance. She also has her own MTV reality series, Kesha: My Crazy Beautiful Life.

Local sensations Justice Crew have had five hits since winning Australia's Got Talent in 2010, including the number one blockbuster "Boom Boom", which went five times platinum, followed by the double-platinum smash "Best Night". Pitbull likes 'em so much, he signed them to his 305 label, and they were part of Pitbull and Kesha's North American tour.

Pitbull and Kesha will tour with special guests Justice Crew.
Tickets go on sale at 10am August 15.