This event's been cancelled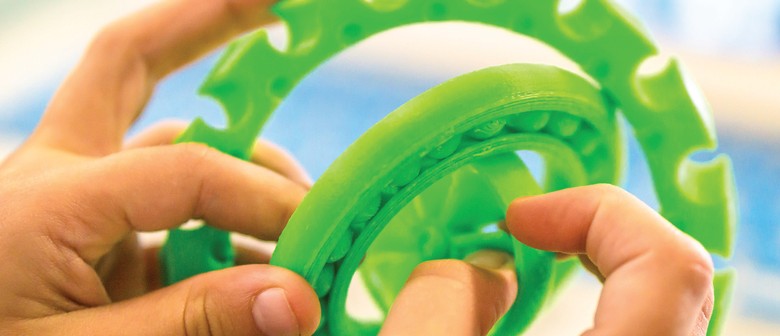 When:
Wed 13 Jul 2016–Fri 15 Jul 2016, 9:00am–3:00pm
Ticket Information:
Earlybird Ticket :

$327.00 ($320.00 + $7.00 fees)

Admit One:

$357.00 ($350.00 + $7.00 fees)
Website:
Learn the basics of three dimensional design. We show you how to move and stretch shapes into bigger more complex objects. With a few tricks and tips, you will be creating amazing 3D things in just one day, see a 3D printer in action and you will get to bring take home a 3D printed object.
Games and Challenges
Work alongside your peers as you develop new skills and our structured levelling system as we'll always have new designs and challenges for you to strive for. There is a way for each of us to earn points for our team.
Upon arrival:
Parents will need to sign up their child to a website, this will allow your child to continue with their creation at home if they wish. Participants will be assigned to a team for games/challenges during the holiday camp.
3D design and printing - 3 days Camp:
- Wednesday 13th July 9am-3pm
- Thursday 14th July 9am-3pm
- Friday 15th July 9am-3pm
Laptop:
Participants (aged 8-15) can use the club's Macbook Airs or bring their own laptops.
What to bring:
Please bring food and drinks. There will be three 30min breaks and physical team activities during the day.
Queries/special requirements:
Please email yvonne@scopeiteducation.com.au or call Enquiries at 0450 283 839 if you have any questions or special requirements.
Code It Yourself Club
With content created by the world's leading primary ICT course developers ScopeIT Education, CIY. Club is running Game Coding Camp on Mondays and Tuesdays and 3D design and printing camp on Wednesday. Code It Yourself Club is an after-school, weekend and holiday club where school aged kids can come together and learn to be creators of technology. CIY.Club came into fruition from the growing amount of time that our young people spend on digital devices. Catering to school aged children of all experience levels, CIY Club teaches kids the coding and mechanics behind the games that they play.
In the news:
http://media.wix.com/ugd/a6efbd_8cacee116cf14b9cb7776589491c0496.pdf
http://www.woodport-p.schools.nsw.edu.au/news/visit-from-the-education-minister