This event's been cancelled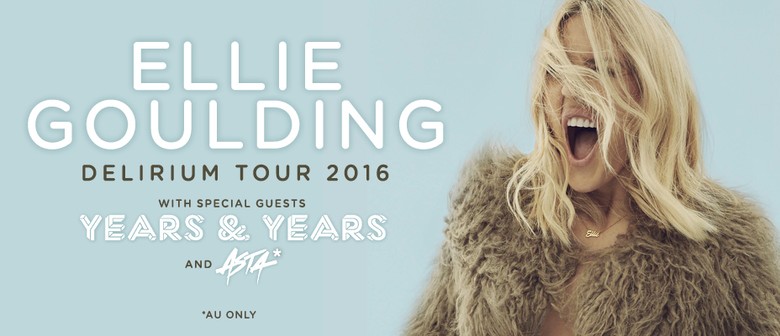 Website:
Related Artists:
Get deliriously thrilled as global phenomenon Ellie Goulding brings her Delirium World Tour Down Under this October for her biggest shows to date, as confirmed by Frontier Touring. Joined by very special guests Years & Years and Asta, Ellie is set to tear up arenas in Brisbane, Sydney, Melbourne, Adelaide and Perth with her electrifying music.

Celebrated as a force to be reckoned with for her first two albums Lights and Halcyon, Ellie Goulding firmly cemented herself as a superstar with the release of third studio album Delirium (Universal Music) in November last year. An expansive and dazzling collection of genre-defying bangers, Delirium met race reviews and slithered up the top ten in no less than 14 different countries.

Delirium's carrier single, the Grammy-nominated chartbuster 'Love Me Like You Do', swiftly broke the world record for most streamed song in one week, skyrocketing to #1 in 80 countries including both Australia and New Zealand where it was certified double and triple platinum respectively. Meanwhile, the song 'On My Mind', still from the album, reasserts Ellie as one of music's most surprising and confident performers. Last month Ellie served the one-two punch of 'Army' and 'Something In The Way You Move', the former a sweeping ode to authentic friendship and the latter an irresistible thumper - both tracks have critics applauding Delirium as her finest album to date.
"Delirium goes straight for the pop jugular, unleashing a relentless barrage of bangers that almost always hit the spot" - Five stars, The Guardian

"Delirium grounds Ellie Goulding's penchant for spectacle in tightly-written pop songs. Her evocative storytelling and ability to craft great dance music is all here… making a mature pop record that feels like a natural progression" - Pitchfork

Alongside solo chart scorchers 'Anything Could Happen' and 'Burn', Ellie also teamed with Major Lazer on the reggae-tinged smash 'Powerful' and collaborated with Calvin Harris on the multi-platinum selling singles 'I Need Your Love' and 'Outside'.

Having just done a standout Grammys performance this week, the Brit Award winning singer-songwriter left fans at Coachella, Lollapalooza, and Glastonbury swooning for more. She also staged an intimate, one-off show at Sydney's Enmore Theatre in October of last year.

"Last night's show proved that Ellie Goulding is a sheer pop powerhouse and it will be a show that I'm sure will be talked about by fans for quite some time." – Renowned For Sound

"Goulding gave everything she had in the last 20 minutes of her show, bringing the house down with her hits You My Everything, Love Me Like You Do and Burn and finally calling it an end with her new banger On My Mind... She ended things in style and did not disappoint." – Project U

Joining Ellie Goulding as guests will be UK electronic virtuosos Years & Years who have quickly impressed with darkly romantic debut album Communion (out now through Universal Music). The album contains the chart scorcher tracks 'King' and 'Shine'.

Tasmanian-born indie queen Asta, Winner of triple j Unearthed High and coming in at #50 in triple j Hottest 100 with her debut single 'My Heart Is On Fire', will also be supporting Ellie. After the release of follow-up single 'I Need Answers', Asta hit the road for her first national tour that included appearances at Pyramid Rock & Falls Festival and a lauded supporting slot at Ellie's Enmore show last October. Astra also teamed with up with Australian hip-hop prodigy AllDay to tear up airwaves on the infectious track 'Dynamite'.

Leaving Australian audiences' jaws dropped time and time again, Ellie Goulding's arena Delirium World Tour promises her most exhilarating performances to date. Bursting with hits and joined by special guests Years & Years and Asta, these shows will be a blockbuster display of showmanship and raw talent.