Troy Cassar-Daley - Things I Carry Around Tour
2 Blair Street, Bunbury, Western Australia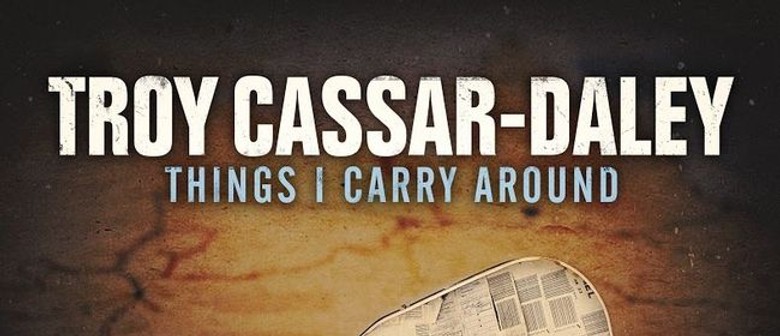 Restrictions
Website
Related Artists
The album is like opening up a large suitcase and having memories and family pictures and sounds and scents and tears and laughter and heartbreak all tumble out around you; a case full of life in all its variations. There's a singular line towards the middle of this magical new album that snags you like a sprig of barbed wire. "I live the tales that I tell". That lies at the epicentre of what makes Troy probably this country's preeminent and most important balladeer. He writes and sings about what he knows, without frill, without varnish, with a purity that somehow makes his experiences universal. When he sings of cooking toast on a piece of wire, or the silhouette of girls dancing by a campfire, or of wattles in bloom, or of a broken heart, you are there with him. His joy and his pain become yours. And with 30 years' experience in the music business, he has become – like great writers, great painters – an absolute master of economy. He simply says so much with seemingly so little.
The book is a raw, sincere story of a young Aboriginal musician who lived in two worlds as a child and at times not feeling like he belonged in either of them. His parents breaking up early in his life had a major affect on him. He shares his connection to his grandparents and the beautiful Aboriginal culture that he was immersed in throughout his whole childhood and love of his huge extended families, Maltese and Aboriginal in Sydney and Grafton. He talks of having his 22 calibre rifle aimed directly at his step father. These are honest accounts, warts and all. Meeting his childhood musical heroes like Merle Haggard and Willie Nelson and also partaking in some contraband! Struggles with holding down relationships while pursuing his career will have you in stitches and the losses of family members are definitely some of the things Troy carries around. His ups and downs on his journey through many a musical adventure will have you laughing and crying and is a reintroduction to the Troy that we have come to know as a clean living family man who loves his wife and kids and his 30 year music career. A refreshingly honest story to read.
"When writing your life story in a book, you get to take the time to remember the important stuff and be as honest as you can. There is no sugar coating here.This is my story as it stands and as I remember it. Writing this album was one of the most inspiring pieces of work I've had the pleasure of recording. Each song has a direct connection to the book and helps set the tones that have been the sound track of my life. The road is not always smooth but it's worth the drive when you get home." - Troy Cassar-Daley
"Troy's a true gentleman, warm and genuine, always a pleasure to be around. He sings straight from his heart and straight from the heart of his country" – Paul Kelly
"Troy's achievements are many, and perhaps the finest may be his ability to make us listen to his heart. Love, life, and laughter could be Troy's motto, but his songs and their stories delve deep into reality." - Joy McKean
Post a comment
Did you go to this event? Tell the community what you thought about it by posting your comments here!