Hurray For The Riff Raff – Bluesfest 2018 Sideshows
105 Victoria Road, Marrickville, New South Wales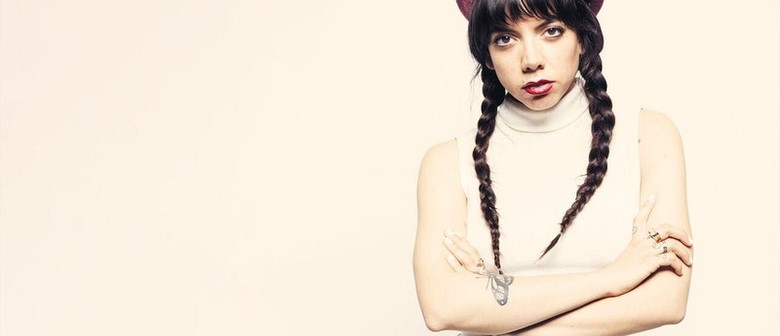 Restrictions
Websites
Related Artists
With musical influences from places as diverse as New Orleans, The Bronx and Puerto Rico, Hurray for the Riff Raff's sound is all their own, and it's sure to delight Australian audiences when they return Down Under next year.
The band is fronted by Alynda Segarra, a creative powerhouse who began her musical career when she ran away from home at 17, busking for survival across American and honing her craft through dreams of Bessie Smith, Ma Rainey, Memphis Minnie, and Woody Guthrie. Since then Segarra realized she is a Puerto Rican kid from the Bronx with a different story to tell.
She created four albums with Hurray for the Riff Raff including 'Small Town Heroes', featuring "The Body Electric," a song that NPR's Ann Powers called "The Political Song of the Year" in 2014.
Their latest album is called 'The Navigator' which Seggarra describes as being about "this girl who grows up in a city that's like New York, who's a street kid, like me when I was little, that has a special place in the history of her people." Through 'The Navigator', the listener hears an ambitiously interwoven, cinematic story of a wandering soul that finally realized she needed to connect with and honor her ancestors.
For 'The Navigator', Segarra quickly went to work with producer Paul Butler, whose work with British soul singer and former Bluesfest allum Michael Kiwanuka she deeply admired. Segarra also drew early inspiration from another Bluesfest favourite, Rodriguez, a Mexican-American who translated working-class stories from Detroit into powerful rock ballads, and the Ghetto Brothers, an underground band from the 1970s South Bronx who stitched Puerto Rican nationalist messages into a rough-hewn fabric of Santana and Sly and the Family Stone Afro-Caribbean funk.
Their sound has been compared to Gillian Welch, Laura Marling and Rhiannon Giddens and has created a huge buzz, this band has next big thing written all over them! The potent lyrics and danceable beats of Hurray for the Riff Raff will hypnotise Sydney and Melbourne audiences in March 2018.
Presented by Bluesfest Touring and Triple R.
Joining Hurray For The Riff Raff as support will be Slow Dancer.
Post a comment
Did you go to this event? Tell the community what you thought about it by posting your comments here!