Jimmy Barnes – Shutting Down Your Town Tour
Port Road, Hindmarsh, South Australia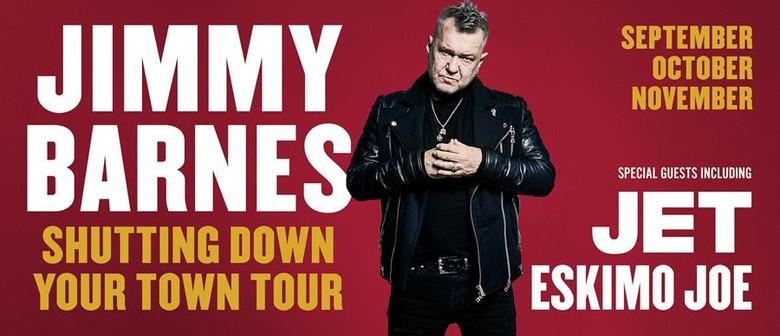 Tour
Restrictions
Websites
Related Artists
Jimmy Barnes will embark on his biggest headlining tour of this century—Shutting Down Your Town. He will be playing all his classic hits plus highlights from his acclaimed new album 'My Criminal Record' which was released Friday, 31 May 2019 via Bloodlines.
'Barnesy' is the heart and soul of Australian rock & roll. Over recent years, his bestselling memoirs 'Working Class Boy' and 'Working Class Man', and their accompanying sold-out theatre tours, have struck a deep chord across his homeland. Now he returns to what he loves most—electrifying audiences with one of the greatest catalogues in the history of Oz rock with the 'Shutting Down Your Town Tour' featuring Cold Chisel anthems, solo classics like 'Working Class Man' and 'Ain't No Second Prize' plus his current radio hit, 'Shutting Down Our Town'.
2019 finds Jimmy Barnes older, smarter, healthier, and for his new album 'My Criminal Record', he has distilled and expanded upon his two best-selling memoirs to create 13 pieces of burning, heartland rock & roll. It will resonate with anyone who has ever found themselves standing on the outside, looking in.
And you won't find a better example of the newfound subtlety and strength in Jimmy's voice than the current single, Shutting Down Our Town, which was written by Troy Cassar-Daley especially for Barnes, after Troy finished reading 'Working Class Boy'. Troy will also be appearing as Jimmy's special guest at the Tullamore show.
"It's been ten years since I made an original rock record and I can't wait to get out there and play these songs, along with all the old favourites, to a live audience. It's going to be great!," Jimmy said.
Presented by Frontier Touring.
Post a comment
Did you go to this event? Tell the community what you thought about it by posting your comments here!