This event's been cancelled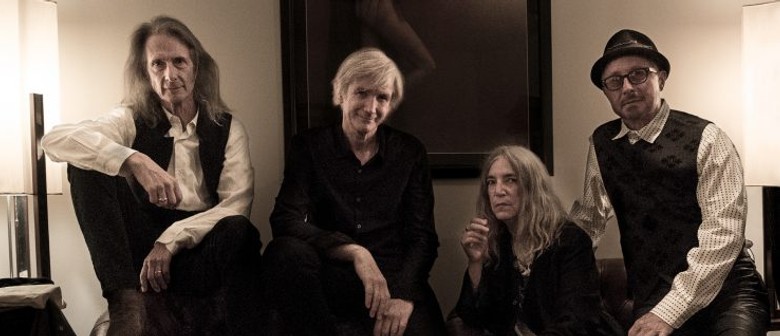 When:
Tue 21 Apr 2020, 8:00pm
Wed 22 Apr 2020, 8:00pm
Thu 23 Apr 2020, 8:00pm
Where: The Forum,

154 Flinders St, Melbourne CBD, Victoria
Websites:
Related Artists:
Following an award-winning sell out Australian tour in 2017, the Godmother of Punk, Patti Smith, is coming back this April! Just when we thought it was all over, Patti called and said, "I'd like to do it all over again. I'm ready if you are!" How could we refuse? The living legend added, "It was just such a great trip. I really thought that I wouldn't be able to come back—so I'm delighted that I was wrong."
After conquering Bluesfest in 2017, Patti Smith and Her Band took home the Helpmann Award that year for Best International Contemporary Concert. With a stellar band including her son, Jackson, 2020 will be even better!
Smith's legacy as an artist is already guaranteed. Her debut LP 'Horses' has been cited as one of the greatest albums of all time from numerous sources including NME and Rolling Stone and marks the beginning of a long and significant musical career for Patti Smith, one that resonates even greater today and has inspired countless others along the way. 'Horses' was followed by another nine albums of original material, books of poetry and a best-selling memoir, an induction into the Rock and Roll Hall of Fame, world tours and personal appearances.
Her award-winning books are 'M Train' (2015), 'Just Kids', and most recently 'Year of the Monkey' released on 24 Sept 2019. Aside from recording, performing, art and writing, Patti is strongly involved in social issues and continues to participate in various human rights organisations.
We are thrilled to welcome the legendary poet and punk rock artiste Patti Smith to Australia with open arms!
Please note: 21 and 22 April shows now sold out.