This event's been cancelled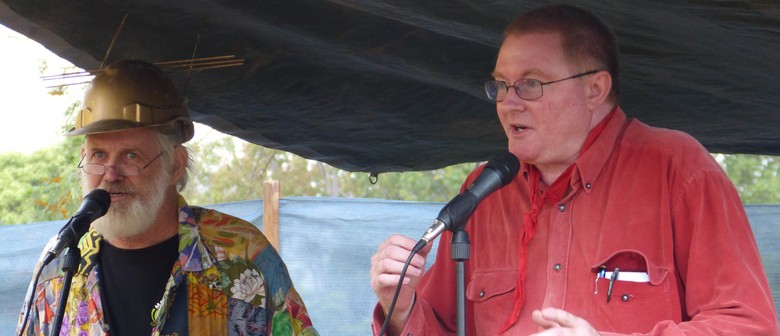 When:
Thu 23 Apr 2020, 8:00am–10:00am
Website:
Be moved to laughter and tears with renowned storytellers Ian Mackay and Mark Feldman over a scrumptious breakfast on the Gallery verandah. Held in conjunction with the exhibition "Boss Drovers."
Breakfast will include a delicious bushman's feast of freshly made damper, real butter, locally sourced honey, lemon curd spread, fresh fruit salad and creamy yogurt.
Ian Mackay has been writing and performing poetry since he was drawn to, and inspired by, the very first Mapleton Yarn Festival back in 1990. Since then he's become a popular performer at Woodford, on the ABC, and elsewhere, and a regular host of many a Poets Breakfast. He loves the way poets have carved for themselves a performance niche in the morning time slot, and has watched with delight as Poets' Breakfasts have sprung up across the land. He reckons that a major reason for their success is their unscripted nature, the fact that absolutely no-one knows how the morning will unfold. While much of his poetry is original, Ian also reaches back to breathe life into the works of older poets, those who for one reason or another have chucked the mortal coil and are no longer able to perform in person. Audiences are moved to laughter, to tears at times, credibility stretched, as poets and storytellers demonstrate the power of the spoken word.
Mark Feldman is a writer, reciter and performer of traditional and contemporary Australian Bush Poetry. He has been featured at festivals and venues all over the east coast of Australia. Mark's repertoire encompasses everything from questionably crazy comedy to the heart-rending soul of serious bush verse. Once a holder of the National Folk Festival Reciter of the Year award, Mark is committed to preserving and furthering this unique Australian cultural tradition. Mark is a poet of unquestionable renown, but somewhat questionable sanity. Beware...!
Download the information sheet for a copy of the event details.