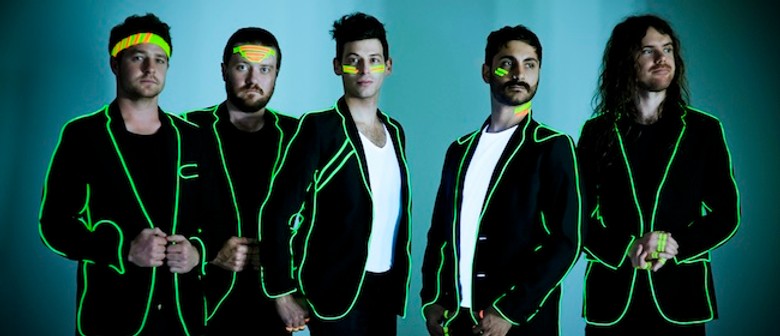 Website
The prosaic nature of Bluejuice's back-story -- they met at school and formed a band -- has led them to invent a biography for themselves more suited to their quirky nature. According to the story, half of them are former members of rock band Sherbet, and the other half consist of lady boys from Thailand. Fortunately, Sherbet's tour manager appreciated the joke when he discovered it.
The original lineup of Bluejuice consisted of vocalists Jake Stone and Stavros Yiannoukas, drummer Ned Molesworth, keyboardist and guitarist Jerry Craib, and bass guitarist Jamie Cibej. Stone and Yiannoukas alternated between energetic rock singing and rapping, sometimes pseudonymously as MCs Velocity and Kinetic, respectively. They were markedly different from the other bands of Sydney's underground scene in 2001 when they formed, with punkish prankishness and sense of humor dominating over the city's defining indie rock seriousness or hip-hop's façade of toughness.
Their first two releases were EPs, Zebraaazz in 2003 and The Good Luck Pig in 2005. Their first album, Problems, followed in 2007 and eventually became an iTunes album of the week as well as having all three of its singles placed in high rotation on JJJ Radio. Their innovative videos, one of which was shot while the band members were skydiving and another capturing an impromptu performance in a mall, also earned them acclaim. Bluejuice's live shows and the energy that went into them were responsible for the biggest buzz: Jake Stone was arrested for wearing part of a police uniform on-stage (charges were later dropped) and broke a hand and leg in separate incidents in 2008.
Their two most recent albums are Head of the Hawk and Company. - AllMusic