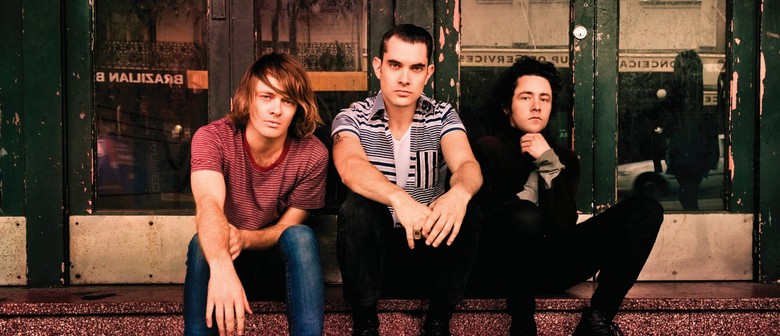 When Arthur Edward Waite wrote The Pictorial Key To The Tarot in 1911, it's doubtful any three-card spread or Celtic Cross could have alerted him to the fact that in a century's time (well, give or take a few months) the divinatory powers of the tarot's major arcana would inspire an Australian band's second album.
Likewise, nor would John Ellis and his theoretical physicist peers have expected that their Theory of Everything - a piece of theoretical physics that would explain all the fundamental interactions of nature and the universe - would one day form the title for that same album.
Leave it to Children Collide, then, to meld the esoteric and the scientific to create Theory Of Everything, one of 2010's most exciting records. Not that such an apparently schizoid blend is anything new for the band. "We've had a little of that going on since we began writing songs," explains vocalist and guitarist Johnny Mackay. "Alchemy and chemistry, reason and religion, love and logic. Art and music are so often about tying opposing forces together into a contentious dualism. Contradiction is a big part of what we do."
Indeed, with this confident follow-up to 2008's The Long Now, the band effortlessly contradict all the music business' superstitious mumbo jumbo about syndromes and slumps of the sophomore variety. Working with producer Rob Schnapf* (Beck, The Vines, Elliott Smith), and with one foot in LA and the other in Melbourne with Paul 'Woody' Annison** (Red Riders, Cabins, Young Revelry), they've crafted an album crackling with energy and smarts. Finally, the whole thing was wrapped in stunning artwork by Emily Hunt.
Don't be fooled by the touches of the occult, however: this is no druid-robed cosmic jam session or quadrophonic gatefold indulgence. "The record is in no way based around any single concept," Mackay explains. "Nor is the artwork a nod to any other genre or movement, unless, perhaps, it contains a lute and a recorder."
Instead, Mackay hopes that listeners will draw their own conclusions from the collection of songs, in much the same way a fortuneteller 'reads' the cards. "The medieval tarot idea is all about using the imagery to tie the songs together and to reveal facets of meaning that wont necessarily be present when purely listening. It's really about the personally interpretive nature of both a collection of songs and a collection of images."
So, standing in for The Hermit (introspection and understanding), the plangent opener, Future Monks ("About that space you can get in with another person where they're the only one who seems to get you. Like a secret society or club with a membership of two").
Elsewhere, The Hanged Man and The Fool (a leap of faith and acceptance of inner harmony) represent careening first single Jellylegs and the sombre, beautiful Loveless respectively ("I'd been through quite a painful break-up and these two songs are very similar and sit next to each other in my mind").
Second single My Eagle - of which Mackay notes, "People are going to hear it for the first time and hear 'My ego'. This is intentional in half-explaining the metaphor" - takes on The Chariot, appropriately the card of self-confidence and conviction. Its fellow single, the pealing Arrows, is The Wheel Of Fortune.
Much like the tarot cards themselves, however, illumination is all in the eye - or, in this case, the ear - of the beholder. The best way to get your head around Theory Of Everything is to let it wash over you, and be content to revel in the divinatory power of music.
After all, you can't always trust a fortune-teller to give you the straight story. "Once a gypsy came up to me and told me I was a part-wolf, part-hawk," Mackay recalls. "Then she started stroking my hair saying I didn't belong here and that my destiny lay in the mountains. I'm yet to understand what that meant, but I have a feeling it will all become clear the second I arrive at the astral milkhouse."
In the meantime, here's Theory Of Everything...
What will it reveal to you?
Past events by Children Collide