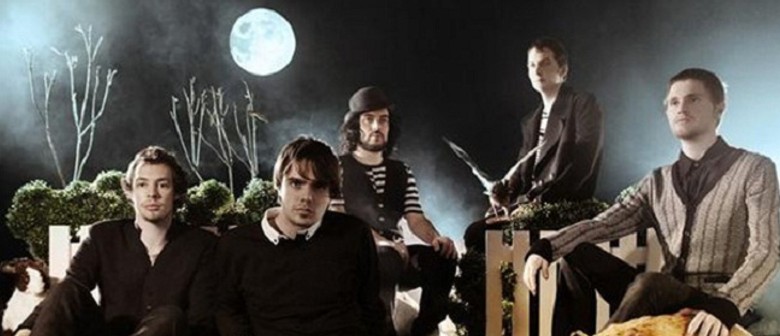 Sydney's Deep Sea Arcade's reverberated pop recalls Portishead and The Zombies yet with a character and charm that is undeniably unique.
Ethereal guitars and lyrical quirks will transport the listener to a dark, watery world of mystery and enchantment, and leave their heads swimming with unforgettable melodies.
The group began as a songwriting and home recording project for founding members and school mates Nic McKenzie and Nick Weaver when they were in their mid teens. Using 4-track tape recorders, broadcast microphones and unconventional computer programs they created a sinister backdrop to contrast with their penchant for pop song structure and melody.
After years developing a large catalogue of demo recordings McKenzie and Weaver banded with guitarists Tim Chamberlain and Simon Relf and drummer Carlos Adura, giving the music an energy and scope that was previously out of reach.
The triple j and community radio supported single, Crouch End, gained enthusiastic interest from fans and critics 2008. 2009 saw the release of the Don't Be Sorry EP as well as the single Lonely In Your Arms, the first tastes of the past 6 months of recording both at home and at BJB studios in Sydney with their co-producer Simon Berkfinger (Philadelphia Grand Jury). Both Don't Be Sorry and Lonely In Your Arms were playlisted at high rotation by Triple J, FBI and 2SER for over three months.
Live, the Sydney five-piece is a force and continues to build a loyal following. As winners of the Hopetoun's 2008 Homebake/EMI incentive and with appearances at Peat's Ridge Festival and Playground Weekender, DEEP SEA ARCADE have also played shows with Aussie acts such as Bluejuice, Expatriate, Yves Klein Blue, Holly Throsby, Jack Ladder and Philadelphia Grand Jury, Whitley and Kid Sam.
Nic McKenzie's performance is captivating; his eerie melancholic pop vocal is coolly delivered as he prowls the stage. As a rhythm section, Nick Weaver and Carlos Adura propel the group with a haunting intensity while Tim Chamberlain and Simon Relf's soaring and intricately layered guitars create a mesmerizing sonic depth amidst a thrilling raw energy.
- Facebook Fan Page.