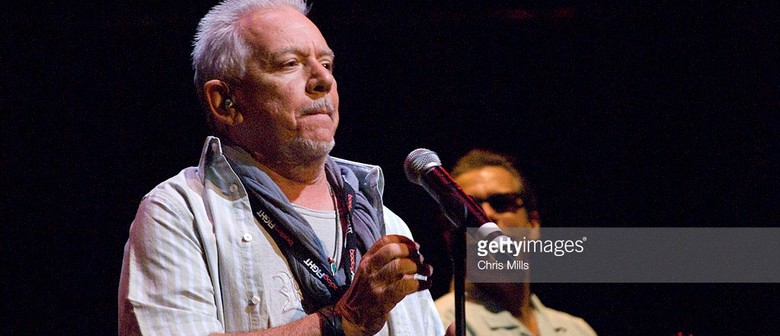 Eric Burdon has one of the most distinctive and searingly powerful voices in rock and roll. As the front man and driving force of the Animals, Burdon was at the forefront of the British Invasion, helping to shape rock and roll's DNA with his imposing yet soulful vocals. A member of the Rock and Roll Hall of Fame since 1994 and hailed by Rolling Stone Magazine as one of the 100 Greatest Voices of All Time, Burdon has continued to forge new musical territory with each new record in the five decades since the iconic "House of the Rising Sun."
A long string of hits, including "Don't Let Me Be Misunderstood" and the Vietnam-era anthem, "We Gotta Get Out of This Place," further secured Burdon's unique position in rock and roll history. As one of the pioneers of the psychedelic San Francisco sound, Burdon's classics include "San Franciscan Nights," "Monterey" and the anti-war, "Sky Pilot."
As founder of multi-ethnic funk outfit War, Burdon continued topping the charts, with his groundbreaking hit single "Spill the Wine," while remaining true to his deep roots in rhythm and blues.
Eric began his musical journey as a working class lad in the coal-mining town of Newcastle, England, where he immersed himself in American blues and jazz, listening to his idols, Ray Charles and Bo Diddley.
With his unrivaled instrument, Eric Burdon has shared the stage with legends such as Chuck Berry, Jimi Hendrix, Jimmy Witherspoon and Otis Redding – and was recently cited by cutting edge musicians like Patti Smith and Iggy Pop in their personal top tens.EB2.
In 2012, Burdon received hard-earned kudos when Bruce Springsteen made him a cornerstone of his keynote speech at South by Southwest. Burdon joined Springsteen on-stage and was soon back in heavy demand. An EP with garage rockers the Greenhornes was quickly followed up with the full-length 'Til Your River Runs Dry, which received a high-profile launch and has garnered great reviews since it's release – in 2013.
Burdon continues his journeyman's path, as an accomplished painter, author, recording artist and traveling bluesman with no letting up in sight. - Eric Burdon Official Website