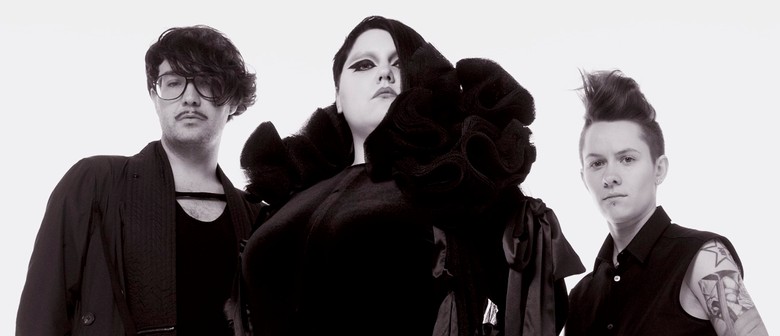 Gossip is a three-piece American indie rock band formed in 1999. The band consists of singer Beth Ditto, guitarist Brace Paine and drummer Hannah Blilie. After releasing several recordings, the band broke through with their 2006 studio album, Standing in the Way of Control (2006). A follow-up, Music for Men, was released in 2009. The band plays a mix of post punk indie rock and dance-punk.
The album Standing in the Way of Control has since earned Gold Record Status in the UK. Gossip's first UK TV appearance was on BBC1's Friday Night With Jonathan Ross, where they performed "Standing in the Way of Control".
As reported on Pitchfork Media in March 2007, the group signed to Music With a Twist, a subsidiary of Sony Music Label Group, concentrating on LGBT music acts. During the summer of 2007, Gossip was a part of the multi-artist True Colors Tour 2007, which traveled through 15 cities in the United States and Canada. The tour, sponsored by the Logo channel, began on June 8, 2007. Hosted by comedian Margaret Cho and headlined by Cyndi Lauper, the tour also included Debbie Harry, Erasure, Rufus Wainwright, The Dresden Dolls, The MisShapes, The Cliks and other special guests. Profits from the tour went to benefit the Human Rights Campaign.
Gossip are based in Portland, Oregon and have played with bands such as Sleater-Kinney, Le Tigre, CSS, Erase Errata, Mika Miko, Panther, Comanechi, and Mates of State. Gossip also opened for the Scissor Sisters for three dates on their November 2006 tour.
On June 24, 2007 Gossip closed the Glastonbury Festival, playing the final set on the John Peel stage during which Ditto gave a tribute to the late John Peel. Gossip also performed the following year, on the Pyramid Stage.
Gossip launched the Live in Liverpool album in the UK and the U.S. in April 2008. The album was produced by Rick Rubin. The album also features a DVD of their live performance. A new studio album called Music For Men was released in June 2009. First single of this album Heavy Cross went especially successful in Germany where it was certified triple gold for selling over 450,000 copies and was mentioned the "most successful internationally produced single" of all times in September 2010. In January 2011 the single broke the German record for the longest selling track in chart history. By 14 January 2011 it had spent 82 consecutive weeks within the German Top 100. - Wikipedia