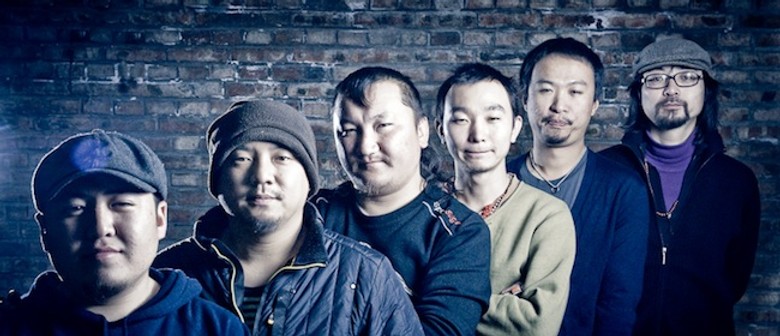 Websites
Hanggai is a Chinese folk music group from Beijing who specialise in a blend of Mongolian folk music and more modern styles such as punk rock. Some of the members are ethnic Mongolians while the remaining are ethnic Han who specialize in Mongolian instruments. All of the members hail from Inner Mongolia and Beijing.
The term "Hanggai" itself is a Mongolian word referring to an idealized natural landscape of sprawling grasslands, mountains, rivers, trees, and blue skies. The band was created when leader Ilchi, captivated by the sound of throat singing and wanting to rediscover his ethnic heritage, travelled to Inner Mongolia to learn the art. It was there that he met fellow band members Hugejiltu and Bagen. In an interview with NPR Ilchi stated that, "Most of our people have moved away from the old way of life…After moving to the cities, many of us have gradually been subjected to a very strong cultural invasion by an oppressive culture. So this traditional music has completely lost its space."
The members of Hanggai come from diverse backgrounds with singer Ilchi having once been the front man of punk band T9.These eclectic experiences have come together to give Hanggai Band a particularly unique sound blending Mongolian folk music with more popular forms such as punk. In an interview with Spinner, Ilchi stated that amongst the group's many influences, Western artists such as, "Pink Floyd, Radiohead, Rage Against the Machine, Secret Machines, Electralane and Neil Diamond…" have played a large role in shaping the band's music. Indeed, although the core of their sound is based around the morin khuur and the tobushuur, two traditional instruments, the band also incorporates some much less traditional fare.
In their first album, Introducing Hanggai, the band also made heavy use of electric guitars, computer programming, bass, and banjoes in order create a more seamless and modern sound.
All the songs are adaptations of Mongolian folk songs and are sung in Mongolian incorporating throat singing, a Mongolian technique in which the artist emits two different pitches at the same time.