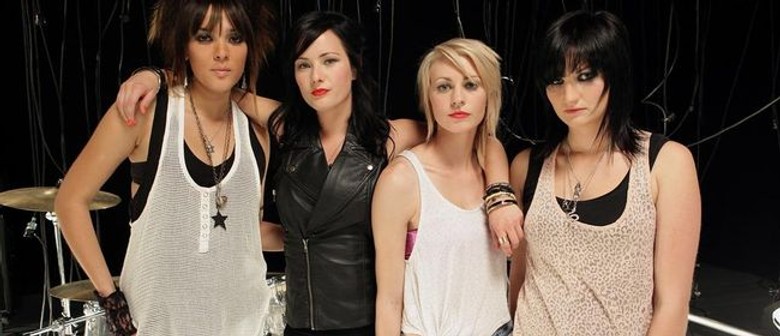 Throw together four girls, give them some guitars, a bass, a drum kit and a microphone and you've got New Zealand's answer to the hottest all girl rock group… Look out as these girls are going places and they mean business!
"Addicted" was their first smash single from their debut album which Ivy Lies recorded over in LA (released in 2010). The power of this band is evident with their combination of pop / anthem rock songs. From the moment you hear Ivy Lies's music, you are hooked, as their tracks resonate down the radio waves and these gorgeous girls are beamed onto your television screens.
In September 2009, after meeting with new management, the band was quickly offered the opportunity to head straight over to Los Angeles to record their album, with famed producer Clif Magness and also recording in Bob Clearmountains Studio (where the likes of Bruce Springsteen, Bryan Adams, Robbie Williams, Bon Jovi, Sheryl Crow have all recorded). Clif, a Grammy Award winning producer, has also worked with Avril Lavigne, Lisa Marie Presley, The Veronicas and Vanessa Amorosi to name a few.
Originally from Christchurch (New Zealand), the band was formed by Lisa, Emla and Rosie under the name 'Starlett' while the girls were still at school. This is where the band caught the eye of SonyBMG, who then signed the band to a development deal, when they were only 17 years old.
The development deal that followed led to two singles, "What I Had", which achieved a top 5 NZ radio hit and "Let It Go", reaching 15. Both tracks received heavy airplay on commercial radio and music television. The band moved up to Auckland in 2008 to hit the live circuit and integrate themselves in the local music scene, and this is where they met Mihka through a mutual friend.
Ivy Lies toured New Zealand's hottest beach spots with the "Coca-Cola bands on the Beach" tour in the 2009/10 summer, performing alongside Midnight Youth and Dane Rumble. They teamed up with The Edge mid-2010 for the "Winter Jam/The Experiment" tour along with Dane Rumble, J. Williams and Kidz in Space.
Ivy Lies second single "Never Enough" is out now!