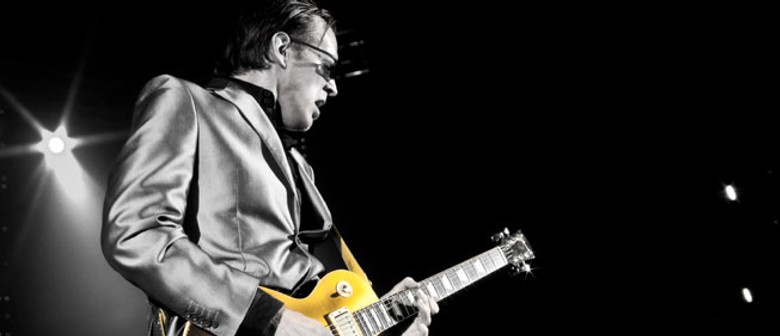 Joe Bonamassa is an American blues rock guitarist and singer. Bonamassa was born and raised in New Hartford, New York. His parents owned and ran a guitar shop. He is a fourth-generation musician; with a great-grandfather and grandfather who both played trumpet, and a father who plays guitar, Bonamassa credits his parents with fostering an appreciation of music in his life as early as he can remember.
He received his first guitar from his father at the age of 4, and by age 7 he was playing Stevie Ray Vaughan and Jimi Hendrix tunes note for note. He first opened for B. B. King at 12 years of age. At 14, he was invited to attend a Fender guitar event; during that trip to the West Coast he met Berry Oakley, Jr. Bonamassa and Berry founded the group Bloodline with Miles Davis's son Erin and Robby Krieger's son Waylon. They released one album which produced two chart singles — "Stone Cold Hearted", and "Dixie Peach."
He has since played with Buddy Guy, Foreigner, Robert Cray, Stephen Stills, Joe Cocker, Gregg Allman, Steve Winwood, Paul Jones, Ted Nugent, Warren Haynes, Eric Clapton, Derek Trucks, and Jack Bruce.
Bonamassa's solo début, in 2000, was his Top 10 Blues disc A New Day Yesterday. In March 2011, Bonamassa released his eleventh full-length solo album, Dust Bowl, followed in September of the same year by a collaboration with Beth Hart called "Don't Explain". In early 2012, Bonamassa completed the recording of his twelfth studio album. The title was confirmed by Bonamassa in a post on his official Facebook page in March 2012 as Driving Towards The Daylight.
- Wikipedia
Past events by Joe Bonamassa