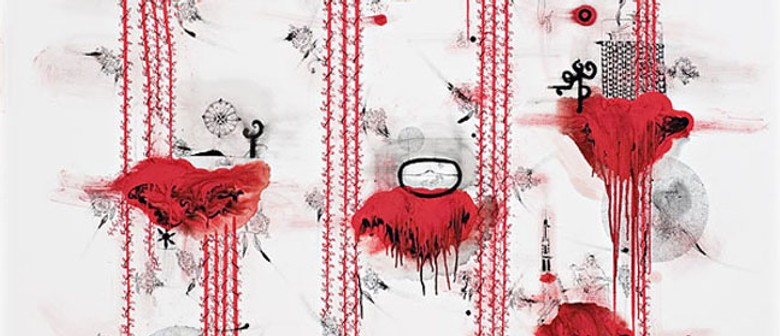 John Pule was born in the village of Liku in Niue in 1962, and immigrated to New Zealand at the age of two. He is an accomplished printmaker, painter, poet and writer. His painting and poetry inform each other and narratives in his work span the historical, mythical, genealogical and autobiographical.
Pule began writing in 1980 after reading the work of Hone Tuwhare, participating in numerous readings and poetry tours during the 1980s, as well as publishing three volumes of poetry – 'Sonnets To Van Gogh And Providence' (1982), 'Flowers After The Sun' (1984) and 'Bond Of Time' (1985). In 1992 he published the novel 'The Shark That Ate the Sun: Ko E Mago Ne Kai E La', described as "one of the most significant texts of the immigrant Pacific community".
In 1987, with the encouragement of artist Tony Fomison, Pule took up painting. Following the lead of artists such as Colin McCahon and Ralph Hotere, Pule began to include his poetry in his artworks in the late 1980s in a series of paintings of texts in Nuiean which confronted his audience with evidence of his cultural difference.
In the early-1990s Pule started working with Hiapo (Niuean tapa cloth), extending traditional Niuean narratives into contemporary times and including aspects of autobiography. With these works Pule found a unique and distinctive voice, producing images (both paintings and prints) which often involve the adaptation of traditional Pacific art forms, while being challenging and provocative in content.
Pule has exhibited extensively throughout New Zealand, Australia, the Pacific and Asia, and has held residencies in Rarotonga (2003), and Zurich (2005). His work has been represented in two Asia-Pacific Triennials at the Queensland Art Gallery. In 2002 he took up a distinguished-visiting writer residence in the Department of English at the University of Hawaii. In 2004 he was awarded an Arts Foundation of New Zealand Laureate, and in 2010 City Gallery Wellington hosted 'Hauaga', a survey exhibition of his career, with the accompanying catalogue 'Hauaga: The Art Of John Pule' published by Otago University Press.
John Pule lives in Auckland with his partner, fellow artist Sofia Tekela-Smith.