Green Day - Revolution Radio Tour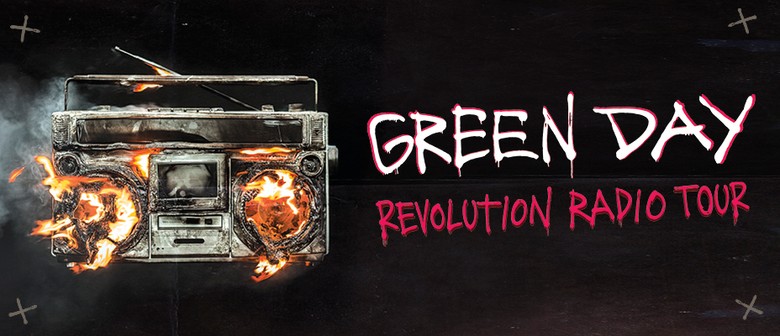 In support of their new album Revolution Radio, Rock and Roll Hall Of Fame inductees and Grammy Award winners Green Day will be powdering Australian stages as they return in April and May next year for a series of dates, marking their first headline tour since the sell out 2009 21st Century Breakdown tour.
Firm favourites downunder, the 2017 tour will see the band showcasing their new album in Perth, Adelaide and Melbourne where they will play two consecutive performances before going to Brisbane. Sydney will see the final two performances. Described by Rolling Stone as an album that's "full of fiery politics and big emotions", the first single 'Bang Bang' clocked over 1.5 million views in just a week.
The US leg of the tour, which has just kicked off, has already met rave reviews with billboard describing the show as "blistering". CBS Philly wrote "Green Day is back and stronger than ever" and the Philadelphia Inquirer said "the show was a high-energy greatest-hits barrage."
The album, produced by Green Day and recorded in Oakland, is a powerful 12-track barrage of angst-ridden anthems that unites Green Day's fully formed stylistic approach with lyrical themes that delve with the complexities and uncertainties of modern day existence. The album highlights the band's reign as one of the leading voices in rock music with it's raw, visceral, and fearless nature.
Kerrang! UK has labelled Revolution Radio as a 'classic' album noting "The 12 songs that comprise the svelte but satiating Revolution Radio are among the finest to which Green Day have put their name…Tell your friends, tell your enemies: America's finest band are back, and back to their best."
Adding to the excitement, LA's own The Interrupters will be joining all Australian dates as Green Day's special guests.
So if you want a strike of energy, angst and emotion, the Revolution Radio Tour is for you!