Apia Good Times Tour 2019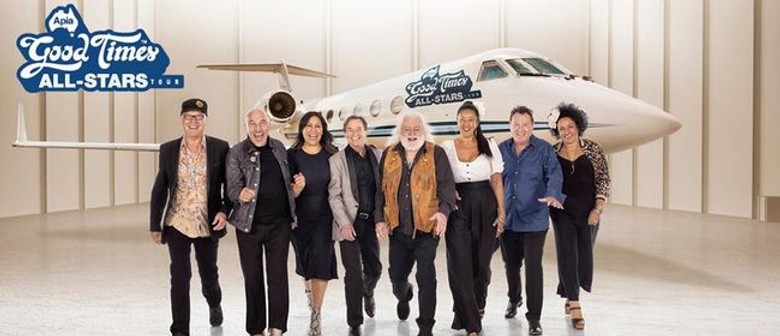 Let the good times and good music roll! The widely-acclaimed Apia Good Times Tour returns for its 7th anniversary this May through to June, bringing seven of Oz music's all-time favourite stars in tow. In what will be the biggest Apia Good Times Tour edition yet, Vika and Linda Bull, Brian Cadd, Joe Camilleri, Kate Ceberano, Russell Morris, Ross Wilson and John Paul Young will all join forces to deliver a unique, once-in-a-lifetime concert experience in Bunbury, Perth, Adelaide, Geelong, Melbourne, Bendigo, Toowoomba, Brisbane, Tweed Heads, Hobart, Launceston, Sydney, Newcastle, Wollongong and Canberra.
2019's Apia Good Times artists have a huge selection of hits to draw from including 'Ginger Man', 'A Little Ray of Sunshine', 'Harley & Rose', 'Chained to the Wheel', 'Bedroom Eyes', 'Pash', 'Never Let Me Go', 'The Real Thing', 'Wings of an Eagle', 'Eagle Rock', 'Come Said the Boy', 'I Hate the Music' and 'Love Is In The Air', to name a few. Each of them will perform their hits and favourite songs culminating in an extraordinary finale with all seven sharing the stage.
"Yes it was nostalgic, but it's fair to say the room was humming for nearly three hours." - Newcastle Heral
"It was an absolute pleasure to be around these musicians and these classic tunes tonight, dare I say better than good times, tonight was great times!" - May the Rock be with You
Check the dates below and get ready to celebrate good times with some of Australia's music legends!