James Blunt – Once Upon a Mind Tour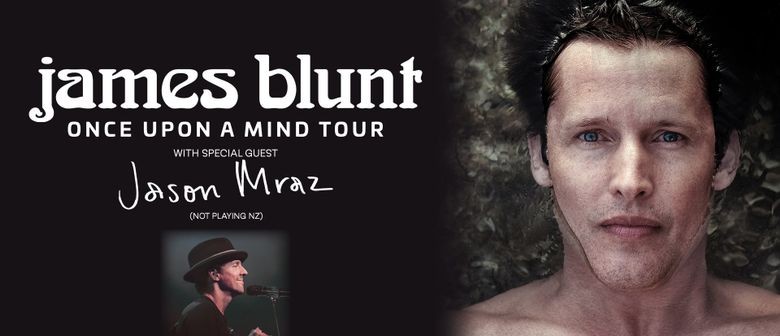 Multi-platinum British singer and songwriter James Blunt is making his highly anticipated return to Australia next year November in support of his latest and critically acclaimed album, 'Once Upon a Mind'. He will be performing a pair of headline shows in Melbourne and Sydney plus A Day On The Green concerts in Perth, Tanunda, Yarra Valley, Hunter Valley and Brisbane, with Jason Mraz as special guest in all shows. Apart from the Australian concerts, James will also be flying to New Zealand to enchant audiences in Auckland and Christchurch.
'Once Upon a Mind' was released last October via Atlantic Records as James' sixth studio album. It features singles like 'How It Feels to Be Alive', 'The Truth', 'Monsters' and the sequel to his global smash hit 'You're Beautiful', 'Cold' among others.
Fans will instantly recognise Blunt in the video for 'Cold' which was filmed in the Welsh countryside and with the singer donning familiar wet trousers. The song reflects where Blunt has come from—and where he's now going. "I'm back where I started," says he of his new material. "Writing songs for me and the people around me. And I'm free again."
It's been 15 years since fans first fell in love with the charming Blunt via his blockbuster 2004 debut album 'Back To Bedlam', and the global sensation 'You're Beautiful'. Today, he now has more than 67 million streams in Australia and 23 million album sales worldwide, not to mention five Grammy Award nominations, two BRIT Awards, two Ivor Novello Awards and more.
Blunt will be joined by special guest Jason Mraz, who returns to Australia for the first time in six years. The pair have been occasional touring partners over the years, sharing stages in the US, Canada, UK and Ireland since 2005.
With over seven million albums sold for his soulful folk-pop sound (the record-breaking 'I'm Yours', 'I Won't Give Up', 'Love Is Still the Answer', 'The Remedy (I Won't Worry)', San Diego's Jason Mraz is a two-time Grammy Award-winning singer/songwriter and Songwriters Hall of Fame Honoree.
Australian singer-songwriter Olympia will also join the A Day On The Green lineup, marking her debut performances for the famed concert series. Just this year, she released the critically acclaimed 'Flamingo', a follow up to her debut album, 2016's 'Self Talk'.
If you've missed James Blunt's concerts in Australia before, don't make the "same mistake" this time—grab your tickets quick!