Cancelled: Simple Minds – 40 Years of Hits Tour 2021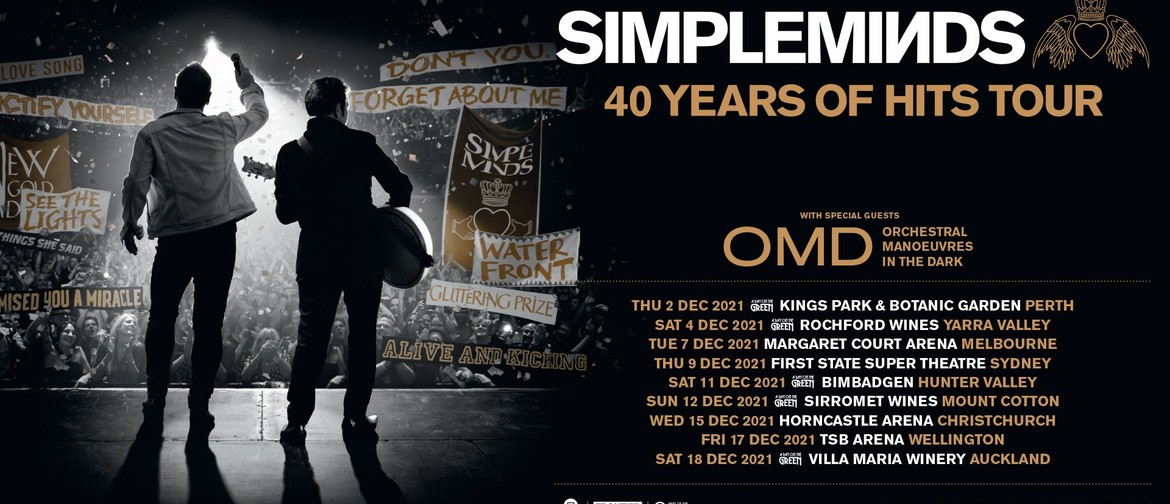 Seminal Scottish band Simple Minds are heading back to Australia in December 2021 as part of their '40 Years of Hits Tour'. They will be performing a pair of indoor shows in Melbourne and Sydney as well as winery shows in Perth, Yarra Valley, Hunter Valley and Brisbane for A Day On the Green. Following the AU dates, the band will fly to New Zealand for shows in Wellington, Christchurch and another A Day on the Green concert in Auckland.
The band are touring in celebration of '40: The Best Of – 1979–2019', a brand new 40-song collection marking their 40th anniversary. The compilation features a cover of Scottish singer-songwriter King Creosote's 'For One Night Only'.
Australia gave Simple Minds their first hit single in 'Love Song', and their first gold album 'New Gold Dream'. A string of awards and more unforgettable hits followed, including 'Promised You A Miracle', 'Let There Be Love', 'Alive and Kicking', 'Sanctify Yourself', 'Belfast Child' and the truly iconic 'Don't You (Forget About Me)' which was recorded for the unforgettable John Hughes film, 'The Breakfast Club'.
They've since gone on to sell over 60 million albums over the last four decades, taking their rightful place as one of the great bands of their generation. Riding the wave of the post-punk era and taking cues from art-rock and early dance music, they deployed rousing choruses and booming atmospherics to provide a soundtrack that endures around the world today.
Looking back fondly on their time in Australia over the years, including their first ever shows here with Icehouse in 1981, Simple Minds singer Jim Kerr shares: "I cannot tell you how much fun we had during that six-week period." "Going from nobodies to overnight success due to our appearance on Countdown. People were screaming for us to play encores. We've always had a wonderful bond with Australian audiences," he adds.
Never ones to rest on their laurels, their shows only get better as time goes on. "I'm grateful for the career we've had," says Kerr, "but I'm mad enough to think we can still hit new levels."
Joining Simple Minds at all shows are acclaimed avant-garde band Orchestral Manoeuvres In The Dark (OMD) who are also celebrating their 40th anniversary and are touring the region for the first time in more than 30 years. They'll bring hits like 'If You Leave', famous for soundtracking iconic teen film 'Pretty In Pink', anti-war song 'Enola Gay', and other classics like 'Souvenir', 'Electricity', and 'So In Love'.
Aussie chart-toppers Eurogliders will also hop along for the A Day On the Green ride. Forming in Perth in 1980 as Living Single, the band went on to conquer the Australian charts, with a string of pop gems, including 'Heaven (Must Be There)'—which also charted in the US—'We Will Together' and the aptly titled 'Can't Wait To See You'.
Check the dates to Simple Minds' truly monumental 40th anniversary performances in Australia next year December and see for yourselves why they are one of the most consistently excellent bands Scotland has ever produced!