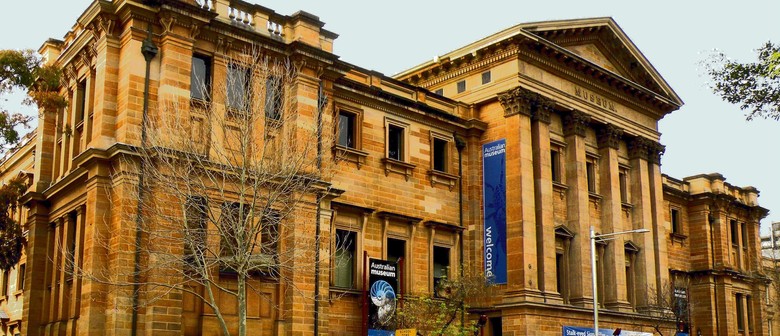 Phone
Website
Hours Open
Weekdays:

9:30am–5pm

Weekends:

9:30am–5pm

Closed on Public Holidays
Ticket Information
Family (2 adult, 2 child):

$30.00

Family (1 adult, 2 child):

$18.00

Adult:

$12.00

Child (5 - 15yrs):

$6.00

Under 5s:

$0.00

Members:

$0.00

Additional fees may apply
Welcome to the Australian Museum, a leading cultural attraction located in the heart of Sydney's CBD.
We're on a mission to inspire the exploration of nature and culture.
Within these sandstone walls and online, you'll discover the story of Indigenous Australians, native animals, insects galore, fish facts, skeletons, minerals, precious gemstones, dinosaurs . . . and much more!
The Museum is a dynamic source of reliable scientific information and a touchstone for informed debate about some of the most pressing environmental and social challenges facing our region: the loss of biodiversity, a changing climate and the search for cultural identity.
Underpinning our research is an irreplaceable collection of international standing - more than 16.5 million objects representing a timeline of the environmental and cultural histories of the Australian and Pacific regions.
Our collection holds many artefacts from Indigenous Australia and the Pacific, a record of human diversity and a living wellspring for regional cultural diversity.
It contains irreplaceable fossils, minerals, meteorites and gemstones that provide a geological perspective of the planet. It houses representative specimens of native Australian mammals, birds, reptiles and fish that tell many stories about our unique wildlife, as well as countless invertebrates from a diversity of land and marine environments.
To enable us to continue our critical collecting and research work, we rely on funding not just from the NSW State Government but increasingly from you, the Museum supporter.
Just by visiting the Museum you are supporting this great undertaking, and there are many other ways to participate. Even shopping for gifts or souvenirs at the Museum Shop makes a difference as all sales directly support our research work.
The public faces of the Museum - its heritage buildings, exhibitions, education programs and ever-changing special displays - result from more than 180 years of relevant learning and communication.
As Australia's first museum, we've inspired many generations. But in one sense our work is only just beginning. The future beckons.
Past events at Australian Museum