Unfortunately, this event's been postponed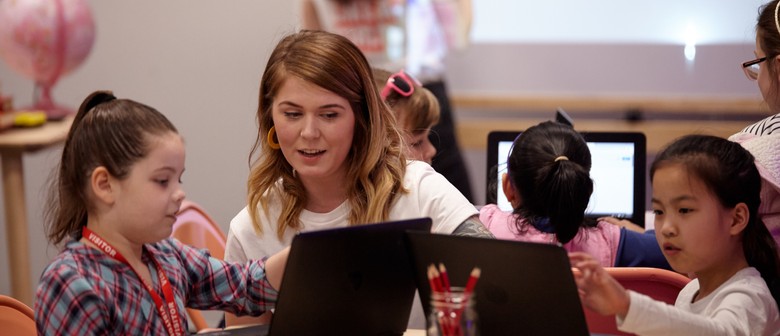 When:
Wed 15 Apr 2020–Fri 17 Apr 2020, 8:45am–3:30pm
Restrictions:
Family Friendly
Ticket Information:
Happy Camper (age 8-11):

$255.00 ($250.00 + $5.00 fees)

Eventfinda tickets no longer on sale
WHAT IS IT?
+ Code Like a Girl runs 3-day coding camps over the school holiday period
+ For girls aged 8 to 11; From 8.45am to 3.30pm each day > Early drop-off available!
+ Each camp has a new theme offering girls a creative environment where they can learn to code at their own pace, based on their own interests.
We always knew our coding camps would go viral, and our autumn 2020 camps are just what the doctor ordered!

THE PROGNOSIS
Experts are forever trying to predict the jobs of the future. But you don't need a brain surgeon to tell you that – like technology – healthcare will be around for the long-term. But in recent years the prognosis for healthcare has become increasingly more technical, giving birth to the MedTech industry – a dual-diagnosis we're bloody excited about!

LEARNING THE LINGO
Code red? Code blue? Let's leave the medical jargon in the ED. Your favourite GirlGang has a finger on the pulse and will teach you all the necessary code to cure what ails ya.

By the time we discharge you, your file will include each of the following:
Javascript: not quite like a doctor's script, but definitely a lifesaver. Javascript is the most popular programming language that sits behind the magic of the web.
Python: this ain't no snake-oil. Python is a multipurpose, readable and beloved language used by machine-learners and beginners alike.
Scratch: no ointment required. We'll use Scratch to introduce you to block-based coding and explore the fundamentals of programming logic!

Worried about your latent coding skills? Take a few deep breaths and lay back, because our team of experts are the best in the business when it comes to uncovering technical talent. We won't even need to run any tests!

THE BEST MEDICINE
Our camps are so much more than just code. We'll give your curiosity the chance to tinker and grow your technical confidence. But most importantly, we'll help you find your crew by introducing you to like-minded young women. Because after all, laughter still is the best medicine.

CLINICAL STAFF
We have a team of experienced and dedicated facilitators from Code Like a Girl who will facilitate and supervise the workshop. All facilitators have a contagious passion for technology and a current working with children check.