Unfortunately, this event's been postponed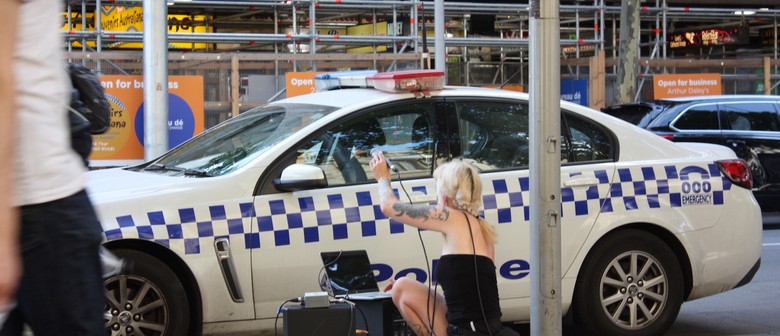 When:
Tue 31 Mar 2020, 12:00pm–6:00pm
Wed 1 Apr 2020, 12:00pm–6:00pm
Thu 2 Apr 2020, 12:00pm–6:00pm
Fri 3 Apr 2020, 12:00pm–6:00pm
Sat 4 Apr 2020, 12:00pm–6:00pm
Websites:
'No Comment' brings together various studio experiments by musician and teacher Bridget Chappell with particular attention toward their investigations into the acoustic science of phase-cancellation. Central to Chappell's enquiry is the imagining of anti-police sound technologies through material research together with theoretical articulations of ungovernable space, tactical defence and silence as a means of political enunciation.
This exhibition is an attentive proposition for the role of musicians sharing a context with the increasing ubiquity of State weaponisation of sound in policing and control. No Comment works from a space of multiple aesthetic conjunctions, underscored by social investments, in graffiti writing, rave and sound system culture, experimental music, science fiction and abolitionist politics.
'No Comment' is the first exhibition by Bridget Chappell and is convened by Thomas Ragnar.
Blindside Sound Series
Every year since 2014 Blindside has invited Liquid Architecture to organise an exhibition under the banner 'Sound Series' by artists working in experimental ways with sound and listening. There have been some incredible shows by Anthony Riddell, Félicia Atkinson, Gerard Crewdson, and Matt Earle among others.
Image | Bridget Chappell, To Phase Cancel the Cops, 2020. Photograph Lou Wheeler | Courtesy the artist.