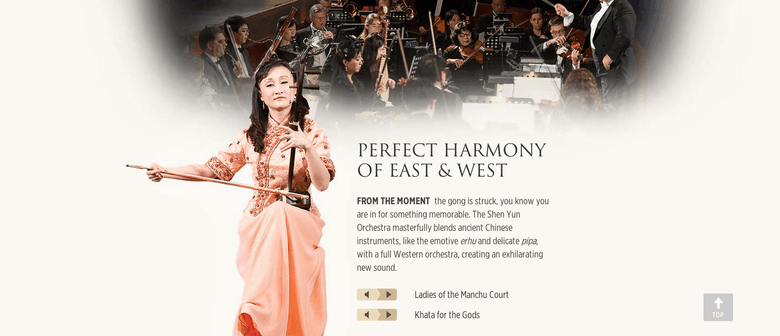 Phone
Website
Hours Open
Thursday:

7pm–9:30pm

Friday:

2pm–9:30pm

Saturday:

2pm–9:30pm

Closed on Public Holidays
Ticket Information
Premium:

$160.00

Lower Stalls - A Reserve:

$110.00

Lower Stalls - B Reserve:

$100.00

Upper Lounge - C Reserve:

$90.00

Upper Lounge - D Reserve:

$80.00

Upper Lounge - E Reserve:

$70.00

Upper Lounge - F Reserve:

$60.00

132849
Additional fees may apply
Witness the Divine Culture's return!
Experience a performance that will touch your soul. From the moment the gong is struck, you know you are in for something memorable.
Shen Yun brings to life 5,000 years of Chinese culture and civilisation in one of the world's most stunning stage productions. With classical Chinese dance, unique live orchestra, dazzling costumes and animated backdrops, Shen Yun will transport you to another world!
From battlefields to imperial palaces, classical Chinese dance has a history of thousands of years, sharing a common ancestry with martial arts. Its dramatic jumping, spinning, and flipping techniques are just part of the vast repertoire of movements that make classical Chinese dance – one of the most demanding and expressive art forms in the world.
Based in New York, Shen Yun has become a global sensation. Millions of people have seen Shen Yun. Standing ovations at the world's top venues, royalty attending in Europe, sold-out shows throughout North America, and packed houses across Asia have made Shen Yun an international phenomenon.
Shen Yun strives to capture the spirit of traditional Chinese culture and its beliefs. Ancient literary classics extol the compassionate, courageous and loyal values embodied by the most memorable characters. Thrill in the triumph of the great General Yue Fei; cheer on the Monkey King as he tricks a stubborn foe; and witness how these values still endure in contemporary China.
From snowcapped Tibetan peaks down to boundless Mongolian grasslands, timeless ethnic and folk dances fill Shen Yun's stage with colour and energy, as resounding drums awaken the dusty plateaus of the Middle Kingdom.
"An extraordinary experience! The level of skill, but also the power of the archetypes and the narratives were startling" – Cate Blanchett, Academy Award-winning actress.
"I think I may have found some new ideas for the next Avatar" – Robert Stromberg, Academy Award-winning production designer.
"Demonstrating the highest realm in arts, Shen Yun inspires the performing arts world" – Chi Cao, Actor in Mao's Last Dancer and Dancer with Birmingham Royal Ballet.
"Mesmerising! Reclaiming the divinely inspired cultural heritage of China" – Donna Karan, creator of DKNY (New York).