This event's been cancelled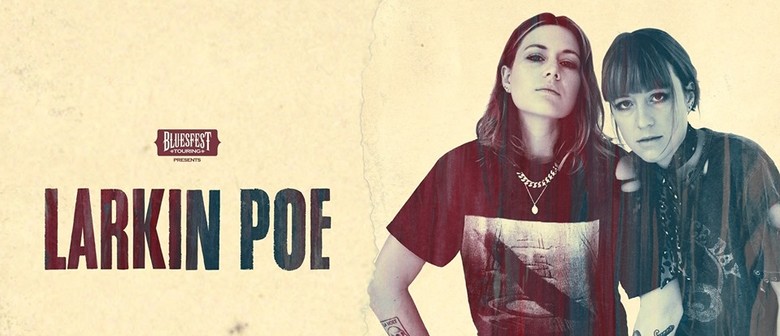 Websites:
Related Artists:
"Larkin Poe are your next favourite performers." - Forbes
After a sell-out run in 2019, blues sisters Larkin Poe return to play even bigger venues in both Melbourne and Sydney this April. Taking a modern interpretation on traditional blues music, the Lovell's performance is like a breath of fresh air to the blues scene.
Making music under the name of their great-great-great-grandfather, Larkin Poe create a unique brand of gritty, southern-fried blues, roots 'n' roll. Rebecca Lovell's voice is full, comforting and charismatic. It seamlessly blends into her big sister Megan's gospel-like backing vocals. Both performing as multi-instrumentalists, it's Megan that often steals the show, providing the perfect balance with some cracking lap steal solos.
Their latest album 'Venom & Faith' pushes the genre-defining boundaries on the understanding of Southern influenced music to a limit. Larkin Poe balance their love for experimenting with new sound techniques against a celebration of traditional blues music. With a few unexpected twists including an electronic synth pad, horn section and a tight bass and drum section—the energy from their live show is something that can only come from family ties and is a thrilling depiction of blues in the 21st Century.
This powerful duo has garnered plenty of high-profile admirers such as Elvis Costello, Keith Urban, Bob Seger and Russell Crowe. They never fail to deliver blues-soaked tracks. Don't miss your chance to catch some foot-stomping, hand-clapping blues from the duo this April.