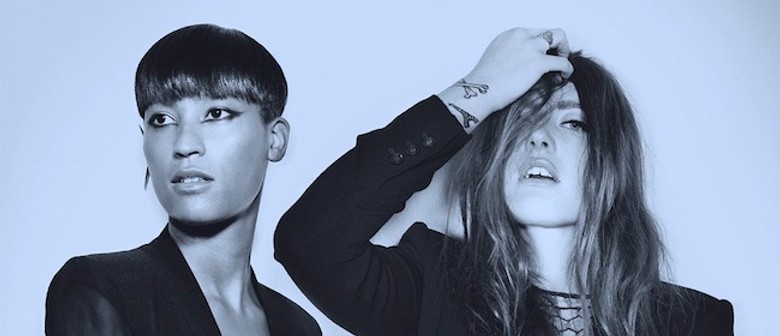 cona Pop is a Swedish DJ and electropop duo with house music, punk and indie pop influences. The duo, established in 2010, is made up of Aino Jawo and Caroline Hjelt.
Aino Jawo was born on 7 July 1986 and Caroline Elizabeth Hjelt on 8 November 1987. For some time, the duo was based in London, where they attracted international attention, including the debut single "Manners" on French Kitsuné Music, and "Nights Like This" on British Mercury Records. Other songs included "Lovers to Friends", "Sun Goes Down" and "I Love It".
In 2011, they were featured on "Mind Your Manners", a song by American indie hip hop duo Chiddy Bang. It was released on July 19, 2011 as a digital download as the lead single from the Chiddy Bang debut studio album Breakfast and reached #15 on Bubbling Under Hot 100 Singles chart, effectively #115 on Billboard Hot 100. It also reached #19 on the Top Heatseekers chart. The song also appeared as a track on the American compilation Now That's What I Call Music! 39.
In the summer of 2012 they took part in a number of festivals including electro music festival Summerburst in Gothenburg and also appeared at the Stockholm Stadium, at the start of a major international festival and broadcast via Sveriges Television (SVT). They are releasing their debut album in 2013. "I Love It", a pre-release of their coming album has already charted on Sverigetopplistan, the official Swedish Singles Chart. The second single "Ready for the Weekend" is scheduled for release September 11, 2012. Both tracks will be included on their sophomore extended play entitled Iconic EP, released October 16. - Wikipedia