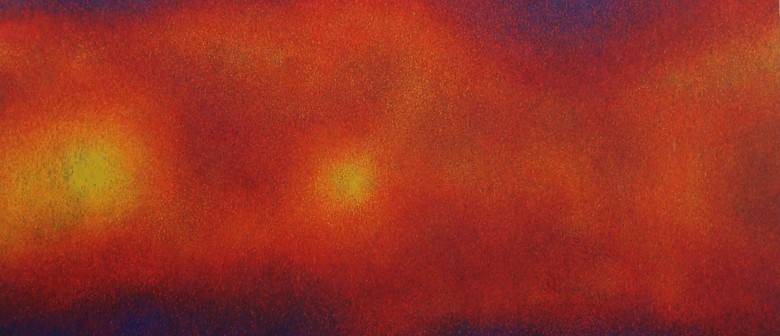 John Drawbridge (1930-2005) was one of New Zealand's master artists working in the fields of printmaking, painting and stained glass.
From an early age it was clear that John Drawbridge was to make an indelible and significant mark on the New Zealand art scene. His sense of composition combined with his technical ability (being both traditional and cutting edge, depending on the project at hand) enabled him to create an exciting and challenging body of work. He is critically acclaimed as a master printmaker but his oil and watercolour paintings, murals, stained glass and textiles are other fields in which he excelled. He was, in its true sense, an Artist.
In the summer of 1949 Drawbridge (then 19), together with cameraman Brian Brake (22), poet James K. Baxter (23), composer Douglas Lilburn (34) went into the Mātukituki valley to make a film about climbing Mt Aspiring/Tititea. However they were unable to reach the summit due to bad weather, and the film was never made. Nearly 60 years later, in 2006, after long-lost footage was recovered, Yvonne Mackay made a documentary about the expedition, Aspiring.
In 1957 Drawbridge was awarded a National Art Gallery Travelling Scholarship to study at London's Central School of Arts and Crafts (graduating in 1960 with a Diploma with Distinction). After marrying Tanya Ashken, also in 1960, they went to Paris for one year, benefiting from an additional 4th year to the Travelling Scholarship, where he continued printmaking, this time with S. W. Hayter and Johnny Friedlander. After successful shows in early 1960s London, most notably at the Redfern Gallery in 1963, Drawbridge and Ashken returned to New Zealand.
John Drawbridge's homecoming was truly a "brain gain" for NZ as he went on to create some of this country's most spectacular public art works, notably the 42 meter long 4.8 meter high Beehive Mural (Banquet Hall, Parliament) and the 9 meter long 4 meter high Expo '70 mural for the NZ Pavilion in Osaka, Japan (now housed in the foyer of the National Library).
You can also see John Drawbridge's works at:
-- South Coast Gallery, 169 Cuba Street, Wellington
-- Stained glass windows at St Judes Anglican Church, Lyall Bay, Wellington
-- 14 Stations of the Cross stained glass works at Our Lady Chapel at the Home of Compassion, Island Bay, Wellington
-- Aurora painting in the foyer of Radio NZ House, 155 The Terrace, Wellington
----------------
Awards
----------------
2009 Inducted to the Massey University Hall of Fame
2006 Recipient of an NZ Arts Foundation grant (selected by Denis and Verna Adam: beneficiary of the Award for Patronage). Awarded posthumously.
2002 Honorary Doctorate (Literature) from Massey University
1989 Governor General's Art Award, NZAFA
1982 QEII Arts Council Fellowship
1978 Awarded M.B.E. (Member of the British Empire)
1971 QEII Arts Council Scholarship
1968 Major Prize, 10th International Exhibition, Bianco e Nero, Lugano, Switzerland
1960 Elected Associate Member of the Royal Society of Painter-etchers & Engravers, London
1957 New Zealand National Art Gallery Travelling Scholarship
-----------------------------------------------
Selected exhibitions (International)
-----------------------------------------------
2002 The 12th Space International Print Biennale, Seoul, South Korea
1994, 1997, 2000 Triennale of Small Prints, Chamalieres, France
1988, 1997, 2000 US Print Consortium, Members Travelling Exhibition, U.S.A.
1993 International Print Exhibition, Maastricht, Netherlands
1990, 1994, 1996 The Inoue Gallery, Tokyo, Japan
1988 The Lumley Cazalet Gallery, London, England
1986 New York Art Expo, U.S.A.
1980 International Print Exhibition, Buenos Aires, Argentina
1978 International Print Exhibition, Cracow, Poland
1976, 1977 10th International Biennale of Prints, Tokyo, Japan
1971 2nd International Triennale of Prints, New Delhi, India
1970, 1972 2nd and 3rd British International Print Biennales, England
1968, 1970, 1978 1st, 2nd and 6th International Exhibitions of Drawings, Yugoslavia
1968 – 1972 New Zealand Print Council Travelling Exhibitions
1968 10th International Exhibition, Bianco e Nero, Lugano, Switzerland
1968 Smithsonian Institute, Washington, U.S.A.
1967, 1969 7th and 8th Print Internationals, Yugoslavia
1966 Brandeis University, Unesco Exhibition, U.S.A.
1960 The London Group, London, England
1960 – 1986 The Royal Society of Painter/Printmakers, London, England
1963 The Commonwealth Institute Gallery, London, England
1963 – 1963 The Redfern Gallery, London, England
1960 The Whitechapel Gallery, London, England
1960 The Royal Academy, London, England
1959 – 1970 The Piccadilly Gallery, London, England
1958 – 1962 The Leicester Gallery, London, England
-------------------------------------------------
Selected exhibitions (New Zealand)
-------------------------------------------------
2005 Judith Anderson Gallery, Hawkes Bay 2001 - 2005 Williams Gallery, Petone
2001 - 2005 Tinakori Gallery, Wellington 2001 Wellington City Gallery
1994 - 1999 The Lane Gallery, Auckland 1987 - 1994 Portfolio Gallery, Auckland
1993 Marilyn Savill Gallery 1981 - 1993 Brooker Gallery, Wellington
1969 - 1971 Elva Bett Gallery, Wellington 1968 - 1981 New Vision Gallery, Auckland
1955 Architecture Centre Gallery, Wellington
1949 Helen Hitchings Gallery, Wellington

-----------------------------
Public commissions
----------------------------
1991 Carpet Design for British High Commission, Wellington
1989 – 1991 Stained Glass Windows for Home of Compassion Chapel, Wellington
1986 Mural for the National Library of New Zealand, Wellington
1985 Mural for CML Building, Wellington - since destroyed
1984 Mural for the School of Architecture Library, Auckland University, Auckland
1973 – 1976 Mural for the Beehive, New Zealand Parliament, Wellington
1972 Mural for Shaw Savill Ltd, Wellington
1970 Mural for IBM, Wellington
1970 Mural for New Zealand Pavilion, Expo '70, Osaka, Japan
1963 Mural for New Zealand House, London, England
1962 Mural for Leicestershire Education Committee, England
-----------------------------
Public commissions
-----------------------------
Victoria and Albert Museum, London, England
British Museum, London, England
Cincinnati Museum, Cincinnati, U.S.A.
San Francisco Museum, San Francisco, U.S.A.
Museo Lugano, Lugano, Switzerland
Te Papa Museum of New Zealand, Wellington
Wellington City Council, Wellington
Auckland City Art Gallery, Auckland
Christchurch Public Art Gallery, Christchurch
Waikato Art Museum, Hamilton
Manawatu Art Gallery, Palmerston North
Wairarapa Arts Foundation, Masterton
Dunedin Public Art Gallery, Dunedin
Leicestershire Education Committee , England
Department of Foreign Affairs, Wellington and Internationally
Victoria University of Wellington, Wellington
Massey University, Wellington
--------------------------------------------------------
Images courtesy of South Coast Gallery.
--------------------------------------------------------