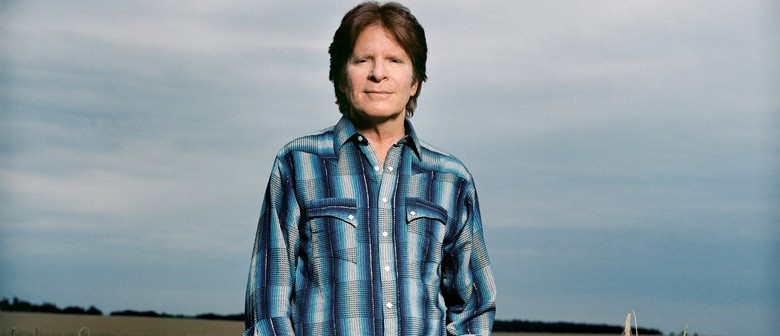 John Cameron Fogerty (born May 28, 1945) is an American rock singer, songwriter, and guitarist, best known for his time with the swamp rock/roots rock band Creedence Clearwater Revival (CCR) and as a #1 solo recording artist. Fogerty has a rare distinction of being named on Rolling Stone magazine's list of 100 Greatest Guitarists at #40 and the list of 100 Greatest Singers at #72. The songs "Proud Mary" and "Born on the Bayou" also rank amongst the Greatest Pop songs ("Proud Mary," #41) and Guitar songs ("Born on the Bayou," #53).
Fogerty was born in Berkeley, California and is the younger brother of the late Tom Fogerty. He attended El Cerrito High School along with the other members of CCR and took guitar lessons from Berkeley Folk Festival creator/producer Barry Olivier.
Inspired by Rock and roll pioneers, especially Little Richard and Bo Diddley, John and his brother Tom Fogerty joined Doug Clifford and Stu Cook in the late 1950s to form the band Tommy Fogerty and the Blue Velvets in El Cerrito, California. After signing with the jazz label Fantasy in 1965, they became The Golliwogs and released a few singles that were largely ignored.
Fogerty was almost drafted in 1966, instead joining an Army Reserve unit. He served at Fort Bragg, Fort Knox and Fort Lee. Fogerty was discharged from the Army in July 1967. In the same year, the band changed its name to Creedence Clearwater Revival.
By 1968, things started to pick up for the band. The band released its first album, the self-titled "Creedence Clearwater Revival", and also had their first hit single, "Susie Q". Many other hit singles and albums followed beginning with "Proud Mary" and the parent album Bayou Country.
John Fogerty, as writer of the songs for the band (as well as lead singer and lead guitarist), felt that his musical opinions should count for more than those of the others, leading to resentments within the band. These internal rifts, and Tom's feeling that he was being taken for granted, caused Tom to leave the group in January 1971. The two other group members, Stu and Doug, wanted a greater role in the band's future. Fogerty, in an attempt to keep things together, insisted bassist Stu Cook and drummer Doug Clifford share equal songwriting and vocal time on the band's final album, Mardi Gras, released in April 1972, which included the band's last two singles, the 1971 hit "Sweet Hitch-Hiker", and "Someday Never Comes", which barely made it into the Billboard Top 20. Cook and Clifford told Fogerty that the fans would not accept "Mardi Gras" as a CCR LP, but he said, "My voice is a unique instrument, and I will not lend it to your songs." He gave them an ultimatum: either they would do it or he would quit immediately. They accepted his ultimatum, but the album received poor reviews. It was a commercial success, however, peaking at #12 and achieving gold record status. It generated weaker sales compared to their previous albums. The group disbanded shortly afterwards.
Their only reunion with all four original members would be at Tom Fogerty's wedding in 1980. John, Doug and Stu played a 45 minute set at their 20th class reunion in 1983, and John and Doug would reunite again for a brief set at their 25th class reunion in 1988.
John Fogerty began a solo career, originally under the name The Blue Ridge Rangers for his 1973 LP debut. Fogerty played all of the instruments on covers of others' country music hits, such as "Jambalaya" (which was a Top 20 hit). After performing country & western tunes he released a rock & roll single in late 1973, also as The Blue Ridge Rangers. The two John Fogerty penned songs were "You Don't Owe Me" and "Back In The Hills" (Fantasy F-710).
In early 1974 John Fogerty released two rock & roll tunes on a 7"-single. The two songs were the vocal "Comin' Down The Road" b/w the instrumental "Ricochet". His second solo album John Fogerty was released in 1975. Sales were slim and legal problems delayed a followup, though it yielded "Rockin' All Over the World", a top 40 hit for Fogerty in North America. Two years later, in 1977, British boogie rockers Status Quo recorded their version of Rockin' All Over the World, which became a huge hit and made the song world-famous, not least by opening 1985's Live Aid with the song that had become one of their best-known anthems.
Fogerty finished an album called Hoodoo in 1976. A single, "You Got The Magic" b/w "Evil Thing", preceded the album's release, but it performed poorly. The album, for which covers had already been printed, was rejected by Asylum Records a couple weeks before its scheduled release, and Fogerty agreed that it wasn't up to his usual high standards. Fogerty told Asylum Records to destroy the master tapes for Hoodoo sometime in the 1980s. Fogerty is something of a perfectionist, often destroying unreleased material, but "bootleg" editions are known to exist of this material. Fogerty says that he was unable to write music during this period of his life.
He has a new album coming out in 2012. - Wikipedia
Past events by John Fogerty