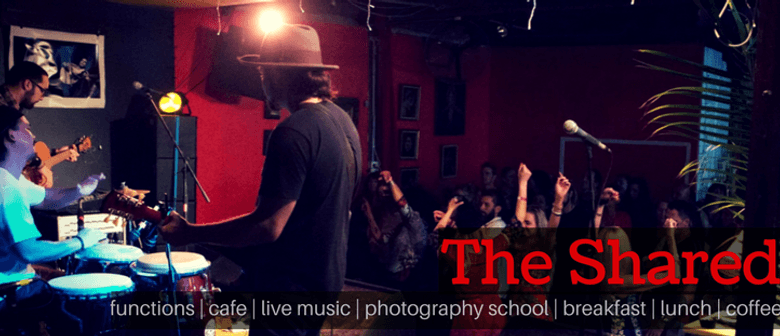 Mobile
Website
Hours Open
Wednesday:

8am–3pm

Thursday:

8am–3pm

Friday:

8am–3pm

Closed on Public Holidays
Amenities
Carpark
Wheelchair Access
Toilets
Food Available
Located at Yandina on Queensland's Sunshine Coast, The Shared is a live music venue, cafe, coffee lounge, event space for functions, workshops, art exhibitions and The Sunshine Coast School of Photography all in one. Located in a 100 year old converted stock feed building, The Shared gives a contemporary bohemian atmosphere and offers a relaxed yet stimulating environment for Sunshine Coast creatives to do their thing. It is the grooviest place; an authentic culture centre and 'home' to some of the coolest people on the coast. Atmosphere is A+.
Live Music - The Shared is all about live music. As a Live Music Venue, we regularly feature world class musicians from the Sunshine Coast as well as interstate and international artists. The Shared loves to support emerging artists too.
The Shared Cafe and Coffee Lounge - is open from 8:00am - 3:00pm Wednesday to Sunday for breakfast and lunch. We have the friendliest staff, impeccable service, amazing food and coffee and smoothies on tap.
Sunshine Coast School of Photography - Colin Beard is the mastermind behind The Sunshine Coast School of Photography. With a career spanning over 50 years there is no better person to guide you through the wondrous world of photography.
Having lived and breathed through the 60s, Collin photographed Australian and International rock legends, such as The Easy Beats, The Rolling Stones, Janis Joplin, Jimmy Hendrix and The Who, just to name a few. He worked intensively for leading fashion magazines adding his own creative style to Vogue, Dolly, Cleo and Cosmopolitan magazines. Colin's work can be seen in hanging as permanent exhibition at The Shared.
Events and Functions - The Shared space is the perfect hub for your event or function. Multi-functional and mesmeric, we can cater for your album launch, party, workshop, performance, film screenings, fashion presentations, creative project or any other reason that you have to get together with your family, friends or work colleagues. It's eclectic and enchanting charm will delight and impress your guests. We also bring the same technical attention to your event that we bring to our concerts - including lightning, PA and a proficient and attentive technical crew. Accommodates 250 people.
Regular Happenings- Roots Rock Reggae Sunday - 3rd Sunday monthly 3 - 9pm. Open Stage Night - 1st Thursday monthly 6 - 10pm
Amenities: PA System. Stage. Green Room. Catering Service. Full kitchen. BYO. Corkage $3. Tables. Lounges. WiFi. Reading Area. Restroom. Wheelchair Access. Easy Parking. Public Transport.