The Iron Maidens Australian Tour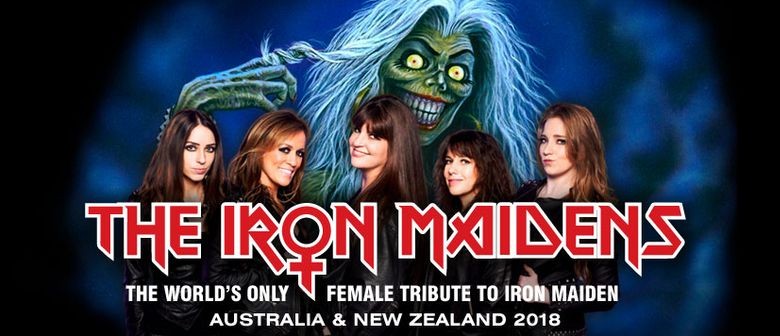 After lighting up venues all over Europe, the UK, the Middle East, South America and Asia, The Iron Maidens—the world's best and only all-female Iron Maiden tribute act—are now set to bring their wall-storming live performances to Australia. They will be playing Brisbane, Sydney, Melbourne, Adelaide and Perth this May through to June.
Kirsten "Bruce Chickinson" Rosenberg (vocals), Linda "Nikki McBURRain" McDonald (drums), Courtney "Adriana Smith"Cox and Nikki "Davina Murray" Stringfield (guitars), and Wanda "Steph Harris" Ortiz (bass) will perform all-time favourite Iron Maiden classics including 'Wasted Years', 'Wrathchild' and 'Can I Play With Madness' to name a few. Before heading to Australia under, the group will first touchdown on NZ soil for shows in Auckland, Christchurch and Wellington.
"I stumbled home with the same feeling of euphoria and delight that I always get when I see Iron Maiden." - metaltalk.net
Having received the thumbs up from Iron Maiden's Steve Harris and Bruce Dickinson, there's no doubt that California's The Iron Maidens have established themselves as one of the most invigorating and original tribute acts in the world. Their renditions of Iron Maiden masterworks are topped only by the kings of twilight themselves.
"The Iron Maidens put on a stellar performance and had me thoroughly entertained and singing along the entire night." - Sleazeroxx.com
Whether you're an Iron Maiden loyal, a lover of The Iron Maidens, or both, the fact remains the same—you're in for electrifying and iron-melting performances once you grab your tickets to these shows. Don't miss out!