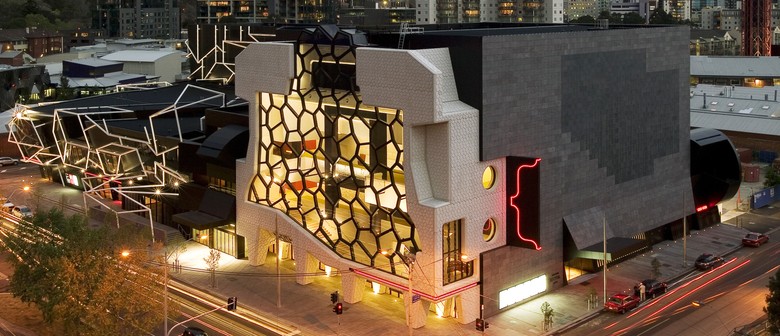 Phone
Website
Hours Open
Weekdays:

9am–5pm

Closed on Public Holidays
Amenities
Carpark
Box Office
Wheelchair Access
Toilets
Guided Tours Available
Ticket Information
+61 (0)3 9699 3333
Additional fees may apply
The Melbourne Recital Centre has won the National Award for Public Buildings at the 2009 Property Council of Australia Rider Levett Bucknall Awards for Innovation and Excellence.
The development was a clear standout amongst category finalists at the gala event held at Sydney's Convention and Exhibition Centre.
Property Council of Australia National President Daniel Grollo said "the Melbourne Recital Centre is an internationally acclaimed performance venue, recognised for its architecture and state of the art acoustics."
"Developed by Bovis Lend Lease and designed by Ashton Raggatt McDougall, this beautifully crafted development is one of a kind, reflecting both a passion for music and design through construction," Mr Grollo said "This world class venue opened its doors in February this year and was delivered three months ahead of schedule, allowing tenants more time to prepare for an intense 2009 performance program."
"The Melbourne Recital Centre more than satisfies the needs of its audience, through state of the art facilities spanning 4,000 square metres, while incorporating the very latest in stage technology and performer amenities," Mr Grollo said.
The Melbourne Recital Centre and Melbourne Theatre Project also won the Victorian Architecture Medal, the William Wardell Award for Public Architecture and the Joseph Reed Award for Urban Design at the Australian Institute of Architects Victorian Architecture Awards.
At the ceremony held in Melbourne on Friday 10 July 2009 the Judges commented: "This project offers a significant architectural experience that successfully crosses design boundaries, having achieved accolades in the diverse categories of urban, interior and architectural excellence."
Professor Philip Goad encouraged Victorians to visit the Melbourne Recital Centre: "Most people really ought to make a visit to the Recital Centre, they will be amazed at the interior, which is like a beautiful violin."
Past events at Melbourne Recital Centre